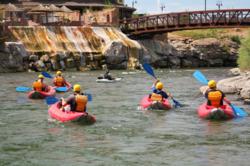 River-driven fun in downtown Pagosa includes swimming, kayaking, tubing, fishing, hot springs.
Pagosa Springs, CO (PRWEB) May 07, 2013
A river runs through it - downtown Pagosa Springs, that is. The San Juan River flows through the heart of downtown Pagosa, creating a unique Colorado experience. As the Town of Pagosa Springs announced today, amidst its winding flow, visitors can find convenient summer recreation that includes swimming, kayaking, tubing, fishing and hot springs.
Snow melt pours into the river in April and May, generating great conditions for whitewater adventures, such as kayaking and rafting. Water levels and temperatures regulate further into summer, welcoming guests of all ages to swim, tube and float – scenic and affordable ways to experience the river. Check out the San Juan River Flows chart for information on current river conditions.
Each year the town makes wave feature improvements, creating better access to all sections of the river within town limits. New wave features and additional fish habitat have been added each year over the last several years, creating a 1.5 mile stretch of river activity through downtown Pagosa.
There is also easy access for swimming and tubing through town. Local outfitter, Pagosa Outside, makes it easy for tubers to repeat the adventure with the famous Tubus Maximus Shuttle. The company also provides tube and gear rentals, including stand up paddleboards. River equipment rentals are also available at Ski & Bow Rack.
Whatever the season, fishing and a visit to the town's hot springs are ideal. Recent river enrichment also produced a healthier fishing habitat downtown. Additionally, the Pagosa Quality Fishing Project adds to the natural fish population each year by stocking the river with trout. These beauties entice anglers to cast a line for catches weighing up to 10 pounds! Multiple local business offer gear, guides and licenses for fishing in and around town.
Pagosa's world record-breaking hot springs (Guinness World Records named the Pagosa Aquifer the deepest in the world) incite relaxation year round. A dip in these "healing waters" promises the perfect conclusion to a day of river excitement. Three downtown establishments each offer a different hot springs experience with more than 30 indoor and outdoor facilities that include tubs, mineral baths, pools and saunas.
For a guide to locations of these activities and other services, explore the Pagosa Springs webpage. To find lodging options that fit every style of vacation and budget, Pagosa Springs offers a variety of hotels, bed-and-breakfasts, cabins, vacation rentals, campsites and RV parks.
About Pagosa Springs (http://www.visitpagosasprings.com)
Pagosa Springs is located in the Colorado Sunbelt along the western slope of the Continental Divide in southwest Colorado. Pagosa is home to the world's deepest geothermal hot springs aquifer, as recognized by the Guinness World Record, which provides R&R for weary travelers and also heats many downtown buildings and sidewalks. Nestled in the three-million acres of the Weminuche Wilderness and the San Juan National Forest, Pagosa Springs is one of Colorado's most natural escapes. Visitors will find a variety of outdoor activities to participate in including biking, skiing, rock climbing, and horseback riding. Recently, Pagosa Springs was included in National Geographic Adventure magazine's "50 Best Places to Live and Play NOW: The Next Great Adventure Towns edition." To explore what Pagosa Springs has to offer visit http://www.visitpagosasprings.com.