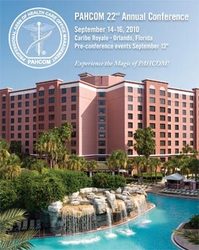 The conference was fabulous. It was a great opportunity to network with colleagues. The educational sessions were outstanding... I look forward to attending the PAHCOM conference in Orlando
Lady Lake, FL (PRWEB) July 19, 2010
The 22nd PAHCOM Annual Conference, featuring a number of health care industry experts and vendors, will be held September 14-16, 2010, in Orlando, Florida. The PAHCOM Annual Conference is a unique opportunity to gain a wide variety of knowledge on practically every item affecting health practice management. The conference is open to PAHCOM members and non-members.
The conference schedule is specifically designed to maximize health care practice education and networking, along with entertaining social events in the evenings. Thirteen industry leaders will share their experience and expertise in multiple workshops on topics that include:

Manage your Revenue Cycle
Hire the Right Candidate
Keep your Doc on Schedule
Make Process from Chaos
RAC Protect your Records
There will also be a number of specialty workshop discussions to address the problems unique to different practices. Attendees share solutions and develop relationships with one another that offer future support.
The PAHCOM Annual Conference includes a formal trade show with exhibitors demonstrating the latest technology and methods on improving the clerical aspects of health care practice operations. Attendees get to view new equipment and visit with multiple vendors to ensure they learn about the most cost-effective options for their own practices.
Past attendees have volunteered glowing testimonials, such as, "Thank you. The conference was fabulous. It was a great opportunity to network with colleagues. The educational sessions were outstanding. Thank you to all of those involved in making this an extremely successful conference. I look forward to attending the PAHCOM conference in Orlando." Joan Austin, CMM.
About
Founded in 1988, Professional Association of Health Care Office Management (PAHCOM) is a national organization dedicated to providing a strong professional network of resources for health care office managers that will perpetuate the productivity, efficiency, and effectiveness of its members, through increased knowledge of health care management principles and research, thereby promoting professionalism in the physician office practice.
With the motto "PAHCOM Shares Knowledge," the organization provides an effective means for small group or solo physician practice managers to obtain support and strengthen their professional growth. The focus on small business management principles separates PAHCOM from other health care associations that serve large clinics and hospitals. You can learn more at http://www.pahcom.com.
###