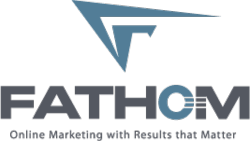 Cleveland, OH (PRWEB) December 13, 2011
Before the end of 2011, an estimated 50%+ of Americans will have a smartphone. Meanwhile, an InMobi survey shows 74 million consumers in the United States already shop from their mobile devices. Knowing these facts, any marketing manager or person in charge of a paid search budget might want to know about tomorrow's webinar from Fathom: "Going Mobile with Your PPC Campaigns." The Wednesday, December 14th webinar is from 1:00-2:00 p.m. EST.
The hour-long webinar, conducted by Fathom's Mike Kartson, senior account executive, and Michael Goff, paid search specialist, will cover everything about making PPC (pay-per-click) campaigns mobile-friendly, from structure and ad spend to projecting results on a monthly, quarterly and yearly basis. Participants will also learn about why having mobile versions of websites and landing pages is so important, as well as specific strategies for both lead-generation and e-commerce business models. Other subjects addressed include knowing whether and when to use "click-to-call" features or display advertising.
Following the December 14th webinar, attendees can access a permanent link to the post-presentation recording and download a free PDF guide of mobile PPC tips and case studies. Paid-search practitioners that are unable to attend the live webinar will still be able to view the recording and obtain the PDF with registration.
About Fathom
Established in 1997, Fathom is a full-service digital marketing company that delivers measurable results that matter: leads that buy and profitable revenue. Fathom's 300+ clients range from middle-market companies to large global enterprises. Industry specialties include B2B, B2C, healthcare, manufacturing, IT/software, education and e-commerce.
Whether engaged in SEO, paid search, email, or video production, Fathom customers recognize that Internet marketing is the most efficient and profitable way to reach and convert their target audiences, and they bank on Fathom's reputation, expertise and commitment to achieving their business goals.
The company currently has 130+ employees and is headquartered in Valley View, Ohio.
###