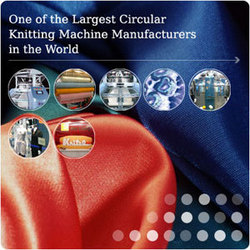 We aim to emphasize the great value of our knitting machine for various textile production and to provide better quality of products
(PRWEB) August 21, 2007
In 2005, Pai Lung launched new knitting machines -- Kintel series -- at ITMA ASIA Singapore. Pai Lung made a breakthrough in knitting technology for denim fabric making. This advanced innovation not only introduces a new application in knitting but establishes Pai Lung's name as a leading knitting machine manufacturer. As attendees at the International Exhibition of Textile Machinery (ITMA) in Munich, Germany in September 2007, Pai Lung announces the theme of their display as "Time to Solution" and presents eleven knitting machines including Upgraded "Knitel Series" and Brand New "A Series" with a concept combining fashion and function.
"We aim to emphasize the great value of our knitting machine for various textile production and to provide better quality of products," Pai Lung President James C.C. Wang said.
In highlighting four categories of fabric, including Denim, Suede, Corduroy and Soft Shell on display, Pai Lung arranges fashion shows to present four fabric collections made using knitting technology, even service personnel wear knitted suede uniforms.
Pai Lung demonstrates various fabrics applied to daily lifestyle, five window displays include urban life, athletics, lifestyle, intimacy and home textile. In particular, urban life focuses on fabric design for formal dress, such as Pai Lung unique knitted suit. Also on display will be a wide range of sports apparel with bodymap features. Visitors are also welcome to experience the feeling of one hundred twenty rolls of different fabrics.
The upgraded "Knitel Series" were developed from high speed X series and Ultra High Speed machines released in 2003. This series was equipped with user friendly control, high volume production ability and optimized features. Its components include needles and sinkers supplied from Europe, Japan and Taiwan in order to achieve quality assurance. The frame of these machines is able to sustain a heavy load of Pai Lung fabric rolling model (45" in diameter) with oil bath bearing design. The take up system also adapts to standard multistage reeling and motor reeling apparatus, and different winding units such as folding, open-width and high-legs design models are provided depending on customer's requests. Knitel series include Single jersey four track knitting machine, Single knit electronic fishnet jacquard knitting machine, Single jersey four track floating plaiting knitting machine and interlock (2+4 track) knitting machine.
Single jersey four track floating plaiting knitting machine-PL-KSFP(B), can produce indigo denim knitted fabric with density of 320~420g/m. This fabric looks almost the same as woven jeans in appearance, but has high air permeability and great elasticity.
Pai Lung broke Germen recorder with an annual capacity of over eighteen hundred machines last year, it leads Pai Lung from the third biggest knitting machine manufacturer into the first place for the entire world. It has also achieved UK SGS Company ISO-9001 and Taiwan Small & Medium Enterprise Top Awards.
Pai Lung has received patent rights for knitting technology in over twenty countries in the world, products include the first invented single jersey six color striper machine, as well as float plaiting knitting machine, double jersey direct shearing terry machine, double jersey machine with sinker ring,and double face terry jacquard machine. The variety of cloth applications goes from general apparel and hi-tech industrial, to aerospace.
"Innovation is our core competitive edge in facing a global market. We've never been only a machine manufacturer, but regard ourselves as a guide to fashion trends. Our consistent commitment is to develop new fabric and machines to satisfy more customers' needs," Mr. Wang said with confidence.
Glory years of Pai Lung at ITMA
1995 "Electronic Jacquard Machine" introduced in Milan.
1999 "Double Face Terry with Electronic Jacquard" promoted in Paris.
2003 "Ultra High Speed Machine Models" presented in Birmingham.
2005 "Knitel Series" announced in Singapore.
2007 "Knitel Series" and "A series" promoted in Munich.
###