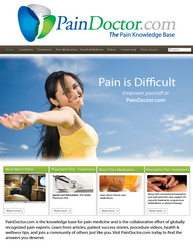 It will help patients find a treating physician that can really help them out, and then find all the treatment options that are available for them.
Scottsdale, AZ (Vocus) June 27, 2010
(Vocus) June 26, 2010 -- PainDoctor.com is pleased to announce that while attending the 27th Annual Pain Symposium held at Texas Tech University, several internationally known pain medicine physicians agreed to become authors of educational articles. The knowledge that they will bring to this patient-oriented website is invaluable.
Dr. Gabor Racz, Dr. Tim Deer, Dr. Aaron Calodney, Dr. Miles Day, Dr. Joseph Fortin and Dr. Allen Burton each agreed that the work of educating the public on pain conditions, treatment options, health & wellness, pain medications, and engaging in an online community network could be beneficial to the public. It is reported that as many as one in five Americans suffer from pain on a day to day basis. Those who suffer from chronic pain often find that many doctors are not able to help them. A pain management physician has dedicated their life to finding ways to cure patients of pain.
Dr. Gabor Racz, a founding father of the specialty of pain management puts it eloquently. "What is being done with PainDoctor.com to educate the public is exciting," he says. "You must be an educated consumer of what we have. Make sure you pick the best. The doctors are there to serve you...and PainDoctor.com is a magnificent step in that direction."
PainDoctor.com is a vast online knowledge base that brings patients something unique and something they've never seen before – a website entirely dedicated to the eradication of pain. Those who suffer from pain, and specifically chronic pain often find themselves feeling as though they have nowhere to turn, and no one can help them. PainDoctor.com is offering those people hope and empowerment to learn about their pain condition.
"I think in this era of the information super-highway, PainDoctor.com is a beautiful vehicle to get that information spread out there on the web," Dr. Joseph Fortin says.
Dr. Aaron Calodney adds to that sentiment, "Patients go to the internet for information. PainDoctor.com serves as the link between the doctor, the patient and the educational resources that the patient needs to make an informed decision about who their medical provider will be."
PainDoctor.com offers not only a wealth of information, but a sense of community; something so crucial to a chronic pain patient. Along with feeling like there is nowhere to turn for help, chronic pain patients often feel isolated from the rest of the world - most people can't understand what it would be like to suffer from pain on a day-to-day basis.
PainDoctor.com was created for patients, to offer world-class information from world-class physicians. The information available on PainDoctor.com was written by physicians, and then is reviewed by other physicians before becoming available to the public in an easy to read, easy to understand format.
"I think it really helps cut through the clutter that is out there," Dr. Tory McJunkin of Scottsdale, Arizona says of PainDoctor.com. "It will help patients find a treating physician that can really help them out, and then find all the treatment options that are available for them."
###