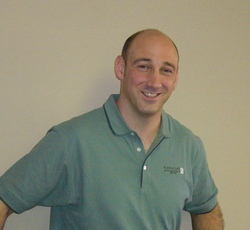 Clearwater, FL (PRWEB) December 8, 2008
The St. John-Clark Pain Treatment Center welcomes Kevin Wade LMT, CINT to their world-renowned therapy staff forming what is, quite possibly, the most accomplished group of soft tissue pain specialists in the country with combined experience of over 80 years. The St. John-Clark Pain Treatment Center was founded in 2004 by Randall Clark and Paul St. John, considered the father of Neuromuscular Therapy, with the goal of bringing together the best soft tissue pain specialists in the country. The clinic first recruited Brunella Lucchi from New York, NY, followed soon after by Tracy Alan Jones from Atlanta, GA. The center then added Eirik Kydland, former Director of Trainer Development for Gold's Gym, as the resident strength and conditioning consultant. Kevin Wade, of Chicago, IL, completes the "Dream Team" of therapists that treats chronic and acute pain conditions using a hands-on, non-invasive treatment system called Integrative Neurosomatic Therapy.
Kevin is a 1999 graduate of the Chicago School of Massage Therapy where he distinguished himself as one of the top students. As a Certified Integrative Neurosomatic Therapist, he comes to the St. John-Clark Pain Treatment Center from the Massage Therapy Center of Winnetka where he began working the same year and was promoted to Assistant Director in 2000. With his in-depth approach to problem solving and his ability to connect with clients, he quickly became the most sought after therapist at the center and one of the top therapists in the Chicago area.
A student of Paul St. John's techniques since 2002, he has studied directly under Paul St. John, Randall Clark and Tracy Alan Jones. He began work as a teaching assistant for Neurosomatic Educators, Inc. in 2006. In 2007, Kevin became an instructor and taught his first solo seminars in Chicago where he continues to teach Integrative Neurosomatic Therapy to therapists from across the country and abroad.
Kevin is a Licensed Massage Therapist in Florida (MA54985), is a member of the American Massage Therapy Association and also certified by the National Certification Board of Therapeutic Massage and Bodywork.
Contact information:
Randall Clark BS, LMT, CINT #32969
St. John-Clark Pain Treatment Center MM15657
13830 58th St. North, Suite 404
Clearwater, FL 33760
727-347-4325
rclark@stjohn-clarkptc.com
St. John-Clark Pain Treatment Center
###