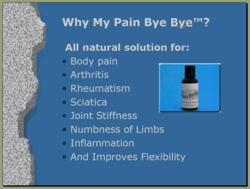 Say goodbye to your body pain
Toronto, Canada (PRWEB) September 28, 2011
More than 40 million people in the United States have some form of arthritis, and many have chronic pain that limits daily activity. Osteoarthritis is by far the most common form of arthritis, affecting more than 20 million people. Rheumatoid arthritis is the most disabling form of arthritis. More than 2 million people have this disease. There is finally good news - My Pain Bye Bye™.
My Pain Bye Bye™ a revolutionary new product that truly is the best solution for all types of body pain with absolutely no side effects.
My Pain Bye Bye™ is an all natural topical solution that's good for general body pain, and a number of other aliments like numbness of limbs, Sciatica, joint stiffness, arthritis and rheumatism. My Pain Bye Bye™ is also an anti-inflammatory and is a great addition to sports kits as it helps improve flexibility.
The company was launched in April, 2011 and the product is getting great reviews as more people are learning about My Pain Bye Bye™ and its benefits. Currently they have a limited time offer going on; more details can be found on their site: http://www.mypainbyebye.com.
My Pain Bye Bye™ is being operated from Toronto, Canada and it is on the Internet at http://www.mypainbyebye.com. They are keenly positioned to provide pain relief worldwide.
###