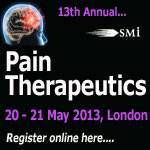 London (PRWEB UK) 11 April 2013
SMi's highly respected Pain Therapeutics conference returns to London with a two day intensive agenda highlighting the latest developments in pain therapeutics and offering attendees a unique platform to engage with KOLs and esteemed academia to learn the challenges and successes in this field.
The 13th Annual Pain Therapeutics conference will showcase recent finding in areas such as: current targets for analgesic development, personalised medicine, the cannabinoid approach, imaging modalities, experimental models in early phase clinical development and improving clinical trial success rates.
Dave Shelton, Senior Director, Pfizer Global Research & Development will deliver first hand information on: The use of ANTI-NGF Agents in Pain addressing the Novel approach to treating pain, anti-NGF in clinical trials, Challenges faced and Future of anti-NGF agents. Other Pfizer sessions include: Exploring the use of Animal Models to Study Pain Pathways, which will be covered by: Huw Rees, Senior Principal Scientist, Pfizer
There will also be a cutting edge presentation from Iain Chessell, Vice President of Research - Neuroscience, MedImmune as he identifies The use of biologic therapies in the treatment of pain - A CASE STUDY of anti-NGFs. This year's conference is expected to be the best year yet, with over 18 speakers from leading Pharma companies as they deliver case-studies, panel discussions and presentations which look to address ground breaking research and key challenges faced within Pain Therapeutics management.
Sponsors now confirmed to attend include Biotrial International, Cellectricon, ICON Plc and MD Biosciences.
Dale Butler, MD of event organiser SMi reported: 'response to this year's event has been extremely positive thanks to the strength of industry bodies and technology specialists we have on board. We look forward to once again providing a Europe-wide platform for debate and knowledge-sharing amongst our varied communities, both in the lead up to and at the event itself'.
For the full conference programme and further information please visit: http://www.smi-online.co.uk/goto/2013pain-therapeutics50.asp. Alternatively contact Cem Tuna: +44(0) 20 7827 6736 / Email ctuna(at)smi-online(dot)co.uk
Sponsorship opportunities are available for this event, please contact Alia Malick on +44(0) 20 7827 6168.
About SMi Group
Established since 1993, the SMi Group is a global event-production company that specializes in Business-to-Business Conferences, Workshops, Masterclasses and online Communities. We create and deliver events in the Defence, Security, Energy, Utilities, Finance and Pharmaceutical industries.
We pride ourselves on having access to the world's most forward thinking opinion leaders and visionaries, allowing us to bring our communities together to Learn, Engage, Share and Network. We hold events in over 30 major cities throughout the world including London, Paris and Singapore and to date have welcomed over 200,000 participants from 80 countries.
For more information, please visit http://www.smi-online.co.uk.