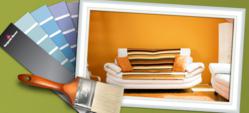 From the start of my career, Benjamin Moore has always been my 'go to' paint
Redwood City, CA (PRWEB) February 24, 2012
Gray's Paint & Wallpaper, providing Benjamin Moore paints to the Bay Area, now features the complete line of Darryl Carter Colors by Benjamin Moore. The iconic coatings manufacturer has joined with renowned interior designer Darryl Carter to bring his expertise to creating compatible color combinations for American households.
"From the start of my career, Benjamin Moore has always been my 'go to' paint. Much of how I articulate an environment is defined by paint. This informs the feeling of an environment as much as what it looks like. Our collaboration is an opportunity for me to share color combinations that have always proven to work seamlessly together," Darryl Carter said.
These new and exciting paint hues are now available through http://www.benjaminmoore.com and at Gray's Paint & Wallpaper.
Proudly serving the San Francisco Bay Area since 1981, Gray's Paint & Wallpaper is no ordinary paint store. With four convenient locations, its trained specialists are always ready to help, no matter how big the project.
For more information about Darryl Carter Colors or any of Gray's Paint & Wallpaper's products or services, call 650-343-6535 or view the paint store on the web at http://www.grayspaints-bayarea.com. Gray's Paint & Wallpaper has four locations in Redwood City, San Mateo, Burlingame and Menlo Park.
About Gray's Paint & Wallpaper
Gray's Paint & Wallpaper are independently owned stores with great customer service and extensive product knowledge. They carry premium Benjamin Moore® paint product lines, including the vibrant colors found in the Aura paint line and the environmentally friendly Natura paint line. Unlike most environmentally friendly paints, there are no compromises with Natura. It covers easily and beautifully, and because there are zero VOCs in both the paint and the colorants, one can choose from more than 3,000 gorgeous colors. Going green starts with low VOC or zero VOC paint, a virtuously odorless paint that doesn't sacrifice design.
###