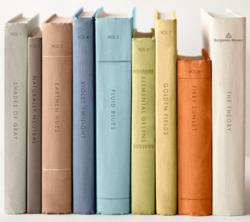 We have broken all the rules with the creation of Color Stories and have achieved colors we've never been able to before
Redwood City, CA (PRWEB) March 07, 2012
Gray's Paint & Wallpaper, a Bay Area paint store that offers a complete line of Benjamin Moore® products, proudly announces the availability of Benjamin Moore Color Stories, an all-new palette of 240 exceptional colors. These paints feature greater clarity, purity and are richer than conventional colors because the paints are formulated with more pigments in precise, exacting amounts. Handcrafted blends, the paints reflect Benjamin Moore's mastery of color science and cement the company's position as the leading color authority.
"We have broken all the rules with the creation of Color Stories and have achieved colors we've never been able to before," Ray Gomez, Benjamin Moore's director of color marketing, said. "These are full spectrum paint colors, meaning that we're combining anywhere between five and seven pigments, using no black or gray tints. Conventional colors use only three pigments and often fill in with black or gray."
Unlike other pigments or colorants, Benjamin Moore's Color Stories are zero VOC. Uniquely, the company makes its own colorants and assures this standard is upheld. So, when the colorants are added to Aura®, which is the only paint formulation being offered for this special series and is the brand's ultimate performance product, the paint remains low VOC, under 50 grams per liter.
"Each Color Stories color is much like a secret recipe. Only select, authorized Benjamin Moore retailers will be equipped to mix them and, without knowing the correct colorant ratios, these hues are impossible to duplicate," Gomez said.
Lighting, especially, interacts with Color Stories colors to yield a visual dynamic that can be an unexpected treat. Natural morning light will affect it one way, artificial or indirect light another, causing the color to take on different characteristics and appearances throughout the day. The shifting tonal readouts add vitality to a décor.
By organizing Color Stories according to the fundamental color families, the Benjamin Moore team has created eight descriptive "volumes" to help as color decorating choices are made. Look for Earthen Hues, Elemental Greens, Fiery Sunset, Fluid Blues, Golden Fields, Naturally Neutral, Shades of Gray and Violet Twilight.
For more information about Benjamin Moore Color Stories or any of Gray's Paint & Wallpaper's products or services, call 650-343-6535 or view the paint store on the web at http://www.grayspaints-bayarea.com. Gray's Paint & Wallpaper has four locations in Redwood City, San Mateo, Burlingame and Menlo Park.
About Gray's Paint & Wallpaper
Gray's Paint & Wallpaper are independently owned stores with great customer service and extensive product knowledge. It carries premium Benjamin Moore® paint product lines, including the vibrant colors found in the Aura paint line and the environmentally friendly Natura paint line. Unlike most environmentally friendly paints, there are no compromises with Natura. It covers easily and beautifully, and because there are zero VOCs in both the paint and the colorants, one can choose from more than 3,000 gorgeous colors. Going green starts with low VOC or zero VOC paint, a virtuously odorless paint that doesn't sacrifice design.