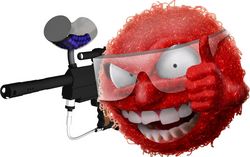 This new distribution channel is going to keep the product competitively priced with excellent margins for dealers.
Kennewick, WA (PRWEB) July 13, 2008
Red Dot Paintball is launching a new website for the wholesale distribution for Vballs, Inc. in Canada. Vballs™ are reusable paintball-sized balls (.68 caliber) with a cover similar to Velcro® . This product can dramatically reduce the cost of maintaining and practicing paintball. The .68 caliber reusable paintballs are becoming a necessary part of every paintball enthusiast's gear bag. Vballs, Inc. is based in Winnipeg, Canada with product manufactured in Thailand.
Until now, becoming a dealer had its challenges. Due to crossing the Canadian border, shipping and drop shipping was limited in the United States. The cost of shipping often outstripped the margin and the result was that the product was not very attractive for carrying in retail shops. These products are priced as an accessory and are an economical alternative to using paintballs. Vballswholesaleusa.com is importing the Vballs direct from the factory in Thailand. Sue Osborn - Marketing Director states that, "This new distribution channel is going to keep the product competitively priced with excellent margins for dealers." In the past the product had to be imported mainly in to Canada and then pass through customs again to service the US paintball industry. We have shortened the logistics channel by importing directly from Thailand, ensuring available stock and fast shipping. Orders placed by 3:00 p.m. Eastern time usually ship the same day.
Anyone owning or servicing paintball guns can attest to the high cost and mess of using paintballs! When using Vballs™ for cleaning or maintaining paintball guns, you can simply grab a hand full of the furry little Vballs™ and a patented Vballs Target System™ target. You can even use them indoors or in the backyard. Pour them in to your hopper or loader and test your paintball gun, loader, electronic eyes, velocity or performance of your paintball marker. You can fine tune or fix your paintball gun while the Vballs go to work and clean your gun from paint residue at the same time.
Dealers can use the online business to business vballswholesaleusa.com website to start their dealer application and place orders. 24 hour access means you can maintain low inventories while servicing your customer's needs. In a pinch, you can drop ship direct to your customer's door. Vballs™ will be adding new products along the way. One of the exciting new additions to its product line is a Slingshot Target Game™. We plan to have this item available to our dealers for the holiday shopping season and we will be accepting pre-orders. This new game will not require paintball guns and uses a sling shot to shoot the furry balls at a target. This will be a great addition to retail stores for Christmas.
Red Dot Paintball is excited to launch this new website that will offer the same fast, reliable shipping and customer service that its online paintball store customers now experience. The paintball website offers all the products necessary to shoot and play with paintballs or Vballs™. You can find all paintball equipment, supplies and accessories such as loaders, masks and goggles, paintball guns and air systems. Paintball is a sport that has grown dramatically in the past several years. There are professional leagues and tournaments playing all across the world. One of the barriers to more players being interested in the sport is the added cost of paintballs for one time use. Using Vballs™ will reduce the cost of practice and maintenance.
For additional information on the dealer news that is the subject of this release (or for a sample, copy or demo), contact Sue Osborn or visit Vballs Wholesale USA.
About Red Dot Paintball:
Red Dot Paintball was started in March of 2007 with the online paintball store rapidly expanding. The owner will actively participate in the Reddotpaintball Paintblog.
Contact:
Tim Osborn, Owner
Red Dot Paintball
866-543-4382
Red Dot Paintball
Vballs Wholesale USA
Reddotpaintball Paintblog
###