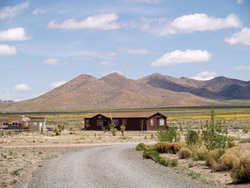 Phoenix, AZ (Vocus) May 5, 2010
A piece of our nation's history will be sold at auction this month. Land frequented by the notorious Clanton Gang as they ran their cattle across the west, and located just 15 miles from the site of Geronimo's 1886 surrender, will be offered with no starting bids on Tuesday, May 25. The sale of New Mexico's 680-acre Painted Pony Ranch offers a rare opportunity to own part of America's history.
The Painted Pony Ranch is situated between the Chiracahua and Peloncillo mountains, former home to the Chiracahua Apache Indians and their most prominent leader, Geronimo. During that time, the land now known as the Painted Pony Ranch, was part of the area then referred to as the Robber's Path due to its frequent use by the infamous Clanton Gang (The Cowboys), outlaws who used the land throughout the 1870s and 1880s leading up to the Gunfight at the O.K. Corral in 1881.
Rich in both history and future potential, this unique acreage includes 680 acres plus exclusive access to 80 acres of BLM land, three homes, three wells and miles of underground piped water. Minerals rights will be conveyed. Painted Pony Ranch offers many options for buyers, including potential use as cattle or horse facility, boarding facility, RV park, astronomy center, retirement village or golf course. With no future use restrictions, the possibilities are endless.
Painted Pony Ranch is located in Rodeo, N.M., a quiet community located between Tucson, Ariz., and El Paso, Texas, just 2.5 hours from each city. With its 4,125 ft. elevation and clean, deep blue skies and dark starry nights, Rodeo has become popular with photographers, artists and astronomers. While Rodeo began as a simple ranching and farming town in the early 1900s, today the area has also become known as a thriving art community and recreational haven.
The Painted Pony Ranch auction will take place on-site at the property located at 48 Painted Pony in Rodeo, N.M., on Tuesday, May 25. Registration will begin at 1 p.m., followed by the live auction at 2 p.m. Property viewings will be available May 7-9, 14-16 and 21-23 from 10 a.m. to 5 p.m.
Property details, photos and terms and conditions can be found at http://www.Supreme-Auctions.com.
United Country – Supreme Auctions can be contacted at 866-929-2243 for additional information or property showings.
About United Country
United Country Real Estate is the largest fully integrated franchise network of real estate and auction professionals in the nation. Based in Kansas City, Mo., the company has been an innovator in real estate marketing since 1925. United Country supports nearly 675 offices across the U.S. and in Costa Rica with a unique, comprehensive marketing program that includes one of the largest portfolios of property marketing web sites (more than 750 separate sites), seven proprietary real estate catalogs with a cumulative distribution of 1.5 million, an extensive, current buyer database and national advertising of properties to more than 90 million potential buyer prospects a week. United Country has been recognized as a Top 25 Franchise by the Wall Street Journal and among Entrepreneur Magazine's Franchise 500®.
###