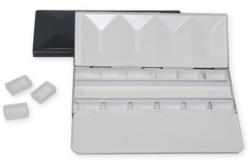 "[T]here is nothing more frustrating than struggling to haul all your equipment down street after cobblestoned street, with that magical aura of old-world beauty obscured by the sweat pouring into your eyes." –Scott Burdick, Professional Artist
Seattle, WA (PRWEB) June 19, 2013
Whether for work or pleasure artists face similar difficulties when trying to bring their paints and supplies on trips. Keeping everything neat and tidy is easier said than done, but clean and efficient travel is part of the game with Daniel Smith painting kits. Watercolor, acrylic and oil paints can wreak havoc on luggage, but when they are carefully stowed in a travel box from Daniel Smith nasty spills go from a traveling artist's worst nightmare to a non-factor.
Getting out into the world and painting landscapes, buildings and other places of significance can be a rewarding experience. However, many times artists find themselves backpacking across rough terrain to reach their intended destinations. Hiking up mountains, through forests and around lakes leads to accidents that in the past could only have been prevented by minor miracles. Now, with Daniel Smith paint kits artists are given the opportunity to be restricted only by their bodies' physical limitations. Daniel Smith also provides information from artists who have mastered the technique of traveling with their materials. Those articles may be found along with the painting kits on the product page above and in Daniel Smith's Watercolor Tips, Tutorials and Articles section.
Artists never want to find themselves in a situation where their supplies have been compromised, and they just spent five hours backpacking across the wilderness. It's Daniel Smith's hope that the paint kits and information together provide artists with the necessary tools to make their trips a resounding success. Artists traveling by foot, car or plane don't have to fear that their paints are presently being absorbed into their personal belongings, as long as they have taken the right precautions. For more information on painting kits, or to read the informative articles on traveling with paints please visit the Daniel Smith website.
###
Daniel Smith Fine Artists' Materials is a leading merchant of art supplies. In addition to manufacturing their own superior-quality lines of watercolors, acrylics, oil paints and printmaking inks, they also distribute a wide variety of other premium supplies for artists of all disciplines. Daniel Smith's products are available through their mail-order catalog and website DanielSmith.com, and locally at their retail store locations in Seattle and Bellevue, Washington.