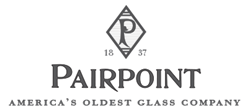 Our job is to revive this remarkable company for a new generation, and create brilliant one-of-a-kind jewelry for the home. That's what Pairpoint does better than anyone else.
Sagamore, MA (PRWEB) November 10, 2015
Massachusetts based Pairpoint, America's oldest glass company with a rich and storied history that dates back to 1837, offering renowned, custom-commissions and collectibles including pieces for Presidents, private clubs and some of the country's most elite speciality stores, has re-launched operations under new ownership in order to focus on providing today's discerning homeowners and interior designers with elegantly designed masterpieces referred to as "jewelry for the home."
Pairpoint was recently purchased by corporate turnaround specialists Jeff and Gary Tulman, who quickly recognized the company's potential to be revitalized for a 21st century marketplace. Key changes and initiatives that are already underway include:

Developing a new "Heritage Line" that takes Pairpoint's signature designs -- many of which can be seen in museums and art collections across the country -- and translates them to suit contemporary styles and tastes.
Reintroducing for the first time in over 80 years the most sought after and luxurious home hardware collection across the country.
Educating customers on Pairpoint's truly extraordinary, exceptionally unique glassmaking. In an industry where virtually all items are generic and machine-made, Pairpoint's heirloom-quality products are hand-crafted by an in-house team of renowned master glass artisans -- including some who have been with the company for nearly half a century, and who have studied Pairpoint's time honoured glass making techniques that have been passed down for generations.
Sharing and spreading the unique Pairpoint brand story locally, nationally and internationally through articles and videos (some of which are available via Pairpont's media section), so that more people can understand why the company has been referred to as the "Tiffany's of Glass" for generations.
"Due to multiple ownership changes and decisions that failed to tap into the company's unique strengths, Pairpoint's brand became diluted over the years, and the general perception was that its best days were well behind it," commented Jeff Tulman. "However, we saw things very differently, and the overwhelmingly positive response and media attention we've received so far clearly shows that we aren't alone in our view. Many people now believe that Pairpoint's best days are ahead, and we couldn't be more honored or excited to be a part of this remarkable turnaround, transition and evolution."
"While we're making some important and necessary changes here at Pairpoint, we're resolutely committed to preserving and celebrating the company's treasured history," commented Gary Tulman. "Truly, we view ourselves more as stewards than as owners. Our job is to revive this remarkable company for a new generation, and create brilliant one-of-a-kind jewelry for the home. That's what Pairpoint does better than anyone else."
More details on Pairpoint, including information on the company's history, collections, custom commissions and artisans, can be found at http://www.pairpoint.com.
For customer or media inquiries, contact info(at)pairpoint(dot)com or (508) 888-2344.
About Pairpoint
Founded in 1837 as the Mount Washington Glass Company, Pairpoint is America's oldest operating glass company, and its timeless designs can be found in museums across the country, including New York's Metropolitan Museum of Art and Boston's Museum of Fine Arts.
Today, Pairpoint is focused on combining traditionally-produced products, newly designed variations, and one-of-a-kind custom commissions in order to provide discerning home owners and interior designers with brilliant masterfully designed "jewelry for the home". Learn more at http://www.pairpoint.com.