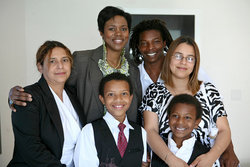 Many of the behaviors that show up as bullying can be traced to the breakdown of marriages, families, and relationships that are critically important to raising children.
Fort Lauderdale, FL (PRWEB) April 2, 2010
Nearly two-thirds of couples in committed relationships regularly argue with each other and more than a quarter quarrel more often than not, according to a research study by the nonprofit PAIRS Foundation.
The major issues couples disagree about include family finance (83 percent), career decisions (76 percent), and dealing with in-laws (70 percent).
While most adults stick it out at home after a fight, four in ten at least sometimes leave the house following an argument, the study found.
For the study, PAIRS Foundation surveyed 750 men and women from Miami-Dade, Broward and Palm Beach counties who are in committed relationships. At the time of the survey, 83 percent of respondents were married.
Researchers followed-up with the couples six months after they completed a nine-hour PAIRS Essentials class in English or Spanish that delivered relationship skills training designed to improve communication, emotional understanding, and conflict resolution.
Results of the follow-up study indicated a sharp decline in the frequency of disagreements:

Family Finance: 37 percent increase in number of respondents reporting always agreeing on issues of family finance.
Dealing with In-Laws: 63 percent drop in couples that frequently disagree over ways of dealing with in-laws; 45 percent increase in those always agreeing.
Career Decisions: 87 percent increase in couples who report always agreeing on career decisions.
Leaving Home After Arguments: 70 percent decline in couples reporting leaving home after arguments almost every day; the number who reported never leaving the house after an argument increased to 75 percent, a nearly 30 percent improvement.
Frequency of Quarrels: 71 percent decline in couples reporting arguing most of the time; the number of couples who reported never arguing with their partner improved 97 percent.
Conversations that Matter: The percent who reported calmly discussing things as a couple more than once a day increased by 61 percent; the number of couples who reported never having calm discussions dropped 64 percent.
Nearly 60 percent of the participants in the study have minor children living at home.
Seth Eisenberg, President of PAIRS Foundation, said the research findings offer important information for couples with children and policy-makers responsible for improving child welfare.
"When couples are able to work through the natural differences that arise in close relationships, they're much better able to provide security, stability and support for their children," Eisenberg said. "Children are profoundly impacted by their parents' relationships. The results show up in academic performance, self-esteem, ability to avoid peer pressures, drug and alcohol abuse, teen pregnancy, and economic well-being."
Lauren DelGandio, a PAIRS National Trainer who first attended the program with her husband three years ago to strengthen their 14-year marriage, said the skills training program is also an important resource for reducing school violence and bullying.
"Many of the behaviors that show up as bullying," DelGandio said, "can be traced to the breakdown of marriages, families, and relationships that are critically important to raising children." The mother of three school-age children, DelGandio said that in nearly every case of bullying that's received public attention, she's seen the impact on children who were not confiding in their parents or aggressive behaviors that can come from youngsters building up anger, sadness and frustration and taking those feelings out on others.
"Active, engaged mothers and fathers are the foundation of safe schools and communities," DelGandio said. "Youngsters need to see their parents successfully working through differences so they have examples for their own lives. Helping parents learn to understand emotions in themselves and others, along with practical skills to help make it safe for their children to confide the full range of their emotions, reduces the likelihood that youth will be victims or perpetrators of bullying," she said.
Amanda Falciglia, PAIRS Foundation's Research Director, said the survey group represented a diverse segment of the South Florida community, including 68 percent Hispanic, 16 percent Black, and 14 percent White. "Statistically significant improvements were consistent across all ethnic groups, gender and age," Falciglia said.
PAIRS Foundation is one of the nation's oldest and leading providers of relationship skills training. In 2006, the organization began a five year demonstration project grant funded by the U.S. Department of Health and Human Services Administration for Children and Families to deliver marriage education and relationship skills training to adults and high school students in Miami-Dade, Broward and Palm Beach counties. As a result of the funding, more than 5,000 people have participated in programs offered through area schools, churches and community organizations. Upcoming classes in English, Spanish, and Creole for both adults and teenagers are currently scheduled, as well as online programs.
For more information, visit http://www.pairs.com, call (877) PAIRS-4U (724 7748), or e-mail info(at)pairs(dot)com.
Related Posts:
Skills training boosts African American Marriages
Resources to reducing teen pregnancy
Helping couples step back from the brink of divorce
Daily Temperature Reading: Five steps to nurturing love relationships
# # #