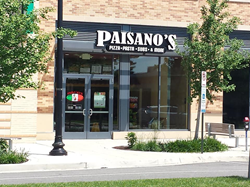 Arlington, VA (PRWEB) June 10, 2014
Fouad Qreitem, a Fairfax County native, has run a successful Italian pizza restaurant and carryout business for nearly 14 years, now opens an Italian pizza restaurant in Arlington, VA.
The newest location opened on Monday, May 19, 2014 at 2201 Pershing Drive, Arlington, VA 22201 and has a dining room with nearly 40 seats. The Paisano's Pizza Arlington location will serve the areas of Ballston, Courthouse, Rosslyn and Clarendon. For service to those areas online orders can be place at http://www.paisanospizza.com or the restaurant phone number is 703.528.1000.
Known for its slogan "NOT JUST PIZZA, BUT SOMETHING FOR EVERYONE", Paisano's serves pizza, salads, subs, Italian entrees and an assortment of deserts.
Qreitem, who grew up in the restaurant business, opened his first Paisano's Pizza in the Fair Lakes shopping center when he was 23. Since then, Paisano's has expanded to 23 stores by adding multiple company-owned locations as well as franchises.
Paisano's management team has decades of experience in food service and has grown Paisano's Pizza into one of the premier Italian restaurants in Northern Virginia.
Paisano's Pizza has distinguished itself with speedy pizza delivery times and an aggressive customer satisfaction policy. Qreitem runs his business with customer satisfaction as his top priority.