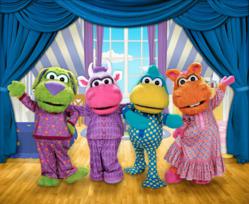 Durham, NC (PRWEB) November 13, 2012
For the first time ever, The Jim Henson Company's Pajanimals are packing their bags and hitting the road to bring a brand new live musical production to DPAC, Durham Performing Arts Center, in Durham, NC on Wednesday, April 3. On November 13, a Sprout pre-sale begins along with the opportunity to purchase a special VIP package which includes premium seating and a meet and greet with the Pajanimals.
Tickets go on sale Saturday, November 17 at 10am:

Online at DPACnc.com
DPAC Ticket Center: 919.680.2787, 123 Vivian Street, Durham, NC
Ticketmaster.com / Ticketmaster Charge by phone at 800.745.3000
Friends of DPAC members may place their orders starting Friday, November 16. Joining Friends of DPAC is free, and you can register at http://www.DPACnc.com/friendofdpac.
PAJANIMALS LIVE: PAJAMA PLAYDATE (http://www.pajanimalslive.com) is filled with lively music, interactive dance fun and silly adventures all set in the cozy, comfy environment of the Pajanimals world. This fun and nurturing show is designed to introduce kids and families to their first theater experience. Seen in the U.S. every night on the 24-hour preschool channel Sprout and NBC Kids on Saturday mornings, Pajanimals has quickly become a favorite for preschoolers and their parents so fans of all ages are encouraged to wear their favorite pajamas to the show and join in on the fun.
"Pajanimals is one of our most beloved shows, and families are invited to see these characters live on stage and share a special Pajanimals adventure with Squacky, Cowbella, Apollo and Sweet Pea Sue," said Lisa Henson, CEO of The Jim Henson Company. "Our team always envisioned the property as a theatrical experience for families everywhere. We know this new live show will be something that will create a lasting memory."
"Families will be dancing in the aisles and singing the songs along with the Pajanimals. We encourage all children and caretakers to wear their favorite pajamas for an awesome play date with Pajanimals" says Jonathan Shank, executive producer of Pajanimals Live!
The Pajanimals are teaming up with CID Entertainment to offer a very special Pajanimals Party Package! Packages include premium reserved seating in the first 10 rows of the theater, a meet & greet photo opportunity with the Pajanimals in an exclusive party room plus a poster and a VIP laminate. Enhance your Pajama Playdate experience with this super fun party package! For more information, visit http://www.cidentertainment.com/pajanimals.
PAJANIMALS LIVE: PAJAMA PLAYDATE incorporates costumes and sets created by The Jim Henson Company. Written by Pajanimals co-creator Alex Rockwell along with, Bradley Zweig (Sid the Science Kid), the live show stars favorite characters including Squacky, Sweetpea Sue, Cowbella and Apollo who sing all of the Pajanimals' greatest hits as well as new songs created exclusively for the live show. The tour is produced by Red Light Management and will be choreographed and directed by Myles Thorogood. It is based on the television series created by Alex Rockwell and Jeff Muncy.
Tour news and updates can be found at http://www.pajanimalslive.com.
####
About DPAC
Since its opening in 2008, DPAC, the Durham Performing Arts Center, has become the center for live entertainment in the Triangle. Recognized for its contemporary design, DPAC features 2,700 seats, intimate sightlines and state-of-the art sound and video. Listed multiple times in the top 50 in Pollstar magazine's worldwide theater attendance rankings, DPAC is currently the #4 ranked theater in the U.S.
What's up next at DPAC? JERSEY BOYS, the 2006 Tony Award®-winning Best Musical about Rock and Roll Hall of Famers The Four Seasons: Frankie Valli, Bob Gaudio, Tommy DeVito and Nick Massi now until November 18. And Raleigh's own Clay Aiken will bring his Christmas special, Joyful Noise Tour, on November 29.
For more information please go to http://www.DPACnc.com.