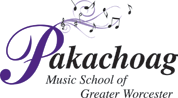 We invite you to consider making Pakachoag Music School of Greater Worcester your home for starting, or continuing, your musical journey.
worcester, ma (PRWEB) August 28, 2012
For over 30 years, the Pakachoag Music School, a non-profit community school of the arts, has been a center of diversity where families and students of all ages and backgrounds have begun or continued their musical journey. Now, after cementing their reputation for providing the very best in music education and enrichment, they will have a special 'thank you' celebration at Worcester's Tuckman Hall this October. It all has been possible due to the school's team of over 20 faculty members and their love for music that they share in 15 different educational programs each term as well as over 25 performances by students throughout the year.
Pakachoag's commitment to arts education is grounded on the understanding that aesthetic experiences revealed through the arts, along with the self-discipline, analytical skills and focus required in becoming a musician, lead to greater success in all areas of life — from business, technology and the sciences, to health and human services, to community and family life. These same experiences and skills inspire us to recognize, appreciate, and reach for high standards.
The faculty at Pakachoag include an array of skilled and highly trained professionals, including everything from professional actors, concert pianists and early childhood specialists; to a Suzuki Violin Program Coordinator certified as a 'Suzuki Teacher Trainer' (the highest level of training achievable through the Suzuki Association of the Americas); to a certified teacher of the Alexander Technique. Teachers hold a variety of professional degrees all the way up to DMA.
The School and its faculty are committed to creating excitement, joy and high expectation for intellectual, emotional and creative self-development. The Pakachaog team believes everyone in search of learning – children, elders and any one in between – are capable of that learning, regardless of ability, background or need. Indeed, students travel from as far as Connecticut and Rhode Island to attend, re-enforcing Pakachaog's place among the region.
Diverse Offerings, Convenient Locations
Pakachoag serves the musical interests of all learners throughout the life cycle: Infants, school-age children, adults and elders; regardless of their musical skills or goals. Home facilities are based in Auburn, with services also available at five other locations, including:

Shrewsbury Arts Alive satellite program
Music Together satellites in W. Boylston, Shrewsbury, Sterling, and Sturbridge; as well as Auburn.
Expanded theatre offerings, starting Fall 2012, with classes and accompanying productions planned for Auburn, Shrewsbury and Sturbridge.
The School also offers these additional programs:
Music Together™ classes, for children from birth through age four, and Music Together for Bid Kids™ , geared to the interests and abilities of 5-, 6-, and 7-year-olds, follow the recommendations of child development researchers. These classes lay the foundation for musical success and enjoyment throughout life.
The Suzuki Method for violin reaches children as young as four years old, combining one-on-one instruction with the benefits of group lessons, parent education and family gatherings.
Musical Theatre provides performance outlets for children looking for that on-stage, 'I'm part of a team' experience.
Musicianship/Theory Classes enable students to explore how music is composed embracing basics like the proper use of key and time signatures while also extending to the larger picture of what it takes to compose a symphony.
Private Instruction lessons at Pakachoag provide both depth and breadth of education which is difficult to achieve in other settings. This is achieved by assigning students to a "teaching artist," considering individual style of teaching and student's interest when possible.
Pakachoag students and faculty enjoy sharing their music out into the community each year through public performances and free music lessons. The School effectively achieves many of these goals by linking with other organizations. Recent examples include the Afternoon Tunes free music lesson program at All Saints Church in Worcester; The Worcester Youth Orchestras, housed at the School; grant funded outreach early childhood music classes at the Guild of St. Agnes Early Childhood Center in Worcester; and an informal alliance with the All Saints Boy and Girl Choirs.
ABOUT McELROY FILMS
McElroy Films LLC is an award-winning professional producer of high definition video for corporate, educational, non-profit, wedding, music video, and independent film use. Serving the Massachusetts and New England area, McElroy Films' mission is to keep high definition video affordable without sacrificing quality. (781)229-5900