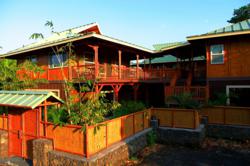 "Pakalana Sanctuary is pleased to open its doors to travelers seeking a close to nature yet refined experience on Hawaii Island"
Puako, HI (PRWEB) January 08, 2013
Pakalana Sanctuary, a vacation rental and small group venue is the newest addition to the exclusive beachfront community of Puako on the Big Island of Hawaii. This 4,000 square foot, one of a kind bamboo home from Bamboo Living, provides guests with a relaxed beach house ambiance melded with refined amenities, furnishings, and custom nature photography prints by local photographer Kaualani.
The Main House at Pakalana Sanctuary boasts a state of the art commercial kitchen, equipped with every cooking essential and a large family style dining room. Two living rooms provide flat screens and Apple TV. There are 3 bedrooms as well as a roomy loft in the Main House to accommodate up to 12 people, along with 3 full baths and a powder room with earthy, natural finishes as well as guest laundry facilities. There are also 3 separate Bungalow Suites connected to the Main House with a series of walkways and an open courtyard and fishpond. Each private bungalow suite has a full bath, and can sleep 2 to 4 people depending on the room.
Guests also utilize the open-air yoga studio complete with props, and enjoy complimentary group yoga classes or can schedule private yoga sessions. Asian meditation gardens and landscaping lend to the tranquility and sense of Sanctuary. Spa services are offered on property as well as in-house concierge service to help visitors plan their stay. For group events, catering and professional event planning are also available.
Pakalana Sanctuary is centrally located on the Kohala Coast of Hawaii Island. Being in an ocean front community there are ample opportunities for swimming, snorkeling, diving, shell collecting, and turtle and whale watching. Pakalana offers a full array of beach going amenities as well as on-site bicycles, ping-pong, and golf clubs for guests' enjoyment. Being located close to nature, Pakalana is committed to eco-friendly practices and utilized renewable building materials, eco-cleaning products, LED lighting, energy saving appliances, and locally made, organic shower amenities.
Co-owner Ray Schmidt and his business partners could not be more pleased. "Being able to share my love of this beautiful island and all it has to offer to visitors is a dream come true for me. Pakalana Sanctuary is ideally located to offer guests the privacy of this beautiful bamboo home along with the amenities and activities of the nearby world-class resorts like fine and casual dining, shopping, and golf. Guests can call Pakalana home during their visit, and venture out to explore the many wonders of Hawaii Island."
Pakalana was founded in 2011 on the vision of providing a luxury vacation home for visitors, families, and groups to gather to connect with one another and nature. http://pakalana.wordpress.com
Vacationers, group organizers, or wedding parties interested in learning more about Pakalana Sanctuary can visit http://www.pakalanasanctuary.com or call Property Manager Jacque Waters at 808-345-4561.