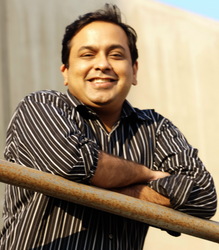 Islamabad, Pakistan (PRWEB) April 18, 2009
The VINNOVA-Stanford Research Center of Innovation Journalism has called on Amir Jahangir, a Pakistani media professional to become the Program Advisor to the Center, advising the VINNOVA-Stanford Research Center of Innovation Journalism on Journalism and Media in Pakistan.
The VINNOVA Stanford Research Center of Innovation Journalism was founded in January 2009 by the H-STAR institute (Human-Sciences and Technologies Advanced Research institute) of Stanford University and VINNOVA (the Swedish Governmental Agency for Innovation Systems).
This new research center at Stanford pursues human-sciences and technology research in areas that will impact and promote the development of innovation journalism, i.e. journalistic coverage of innovation processes and ecosystems. This involves looking at how journalism influences innovation, how innovation influences journalism, and the ability of journalism to recognize and cover innovation. It is building a network of researchers in innovation journalism by hosting visiting scholars from Sweden and inviting researchers from other countries to join.
The new center has taken over the operation of the Stanford-based Innovation Journalism Fellowship Program, the world's first fellowship program in innovation journalism, which was initiated by VINNOVA in 2003 and has been hosted by Stanford since 2004. Each year selected journalists participate in workshops and conferences at Stanford and collaborate with newsrooms across the U.S. in covering innovation. These conferences aim to improve the understanding of how journalism and innovation drive each other, and to identify the key components of innovation journalism. This involves looking at the innovation ecosystem as a playing field for journalism and choosing strategies that will allow media outlets to deliver quality news using the latest technology and to thrive in a competitive marketplace.
Mr. Jahangir's appointment is a result of his previous work with the Stanford University, as he played a leading role in getting Pakistani journalists to be included in the Stanford Innovation Journalism Programme (INJO). The INJO programme focuses on building the capacity of media professionals to report on innovation, develop interaction between journalism and innovation, including how innovation is changing the profession and business of journalism, how to cover innovation in the news, and how journalism links innovation with society.
Due to Amir Jahangir's contribution in developing this programme for the Pakistani journalists and media professionals, so far more than 12 Pakistani journalists have participated in the INJO Programme since 2006.
Amir Jahangir is a strategic communication & media professional with over 18 years of experience with leading communications and media organizations and is currently working as the Chief Executive Officer for Jaag Broadcasting Systems Pvt. Ltd., which runs SAMAA TV. He also advices other international media entities in the region on business, economic and development issues.
Earlier Jahangir has also been a part of the launching team of the Competitiveness Support Fund (CSF), the first joint initiative of the USAID and the Ministry of Finance, Government of Pakistan and has also been a strategic communication consultant to various other initiatives on economic & strategic development. At CSF, he also managed Pakistan's partnership with the World Economic Forum for the Global Competitiveness Network, where he earned the title of the most innovative strategist for developing the most comprehensive strategy for the Executive Opinion Survey for the Global Competitiveness Rankings of the World Economic Forum (WEF) to collect soft data on Pakistan. The strategy is now being adopted as a benchmark in more than 135 member countries.
Though Jahangir's work on the Innovation Journalism and the World Economic Forum was for 30 months, Amir Jahangir successfully created a network of more than 500 journalists across Pakistan, with the capability to create content on innovation, social and economic development and competitiveness related issues. Jahangir has been associated with various research & consultancy firms for analysis on sectors including telecommunications, media, information communication technology and other social and economic issues.
The Programme Advisors taken on board by the VINNOVA-Stanford Research Center of Innovation Journalism are academic, professionals, entrepreneurs and intellectual leaders of special importance to the development of the Center, prominent in fields of expertise relevant to the Center. As a Programme Advisor, Amir Jahangir will be consulted both through non-mandatory meetings and individually. The Center arranges activities to which he will be invited and consulted upon. As a Programme Advisor, Jahangir will not be receiving any remuneration.
In addition to Programme Advisors, the Center has a Founder's Advisory Board and a Directors' Advisory Board. The Founders' Advisory Board maintains a common understanding and vision among the co-founders of the Center, Stanford and VINNOVA. It has four members, two appointed by Stanford, the other two other by VINNOVA. The Directors; Advisory Board advises on strategic issues concerning over-all development of the Center, including academic development directions for research, structuring of the center and funding strategies.
###