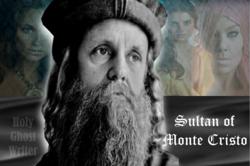 The atrociousness against Jews and Christians practiced by so-called Muslims is a great affront, to and stain, on Islam.
ISLAMABAD, Pakistan (PRWEB) August 20, 2012
Author, The Holy Ghost Writer (HGW), of the book 'Sultan of Monte Cristo' secretly channeled what The Sultan of Monte Cristo said in response to the arrest, "Those that make such laws against burning pieces of paper are weak and inferior-minded people. The Quran is cast in concrete and no one can blasphemy a book. With free copies floating throughout the world in hardback, paperback and all over the Internet, in every known language, how inane to worry about a piece of paper being burnt. Imagine all of the forests that have been wasted to print countless copies of the sacred book. What happened to Allah being most forgiving and merciful? Without Christianity, Islam would not exist. Laws against burning pieces of paper were written by SHAYTON himself. A true Muslim is first a Jew and secondly a Christian because that's part of the spiritually-genetic makeup of every true believer. The Jews being the grandfather of Islam, Christians being their father makes any Muslim fighting against Christianity or any Christian-like a belligerent or disrespectful child, which should be highly shunned in the ways of the true religion. I call for a Jihad within Islam for the true believers to step forward and squash those Shaytonic elements calling themselves Muslims and root out their evil ways from Islam by teaching them our true way of being oft forgiving and most merciful."
The book, Sultan of Monte Cristo, has been spreading in the Middle East and has been secretly used to replace the Qur'an as a new guide among victims of forced marriages. However, under Pakistan's blasphemy laws, anyone found guilty of insulting Islam's Prophet Muhammad or defiling the holy book, the Qur'an, can face life in prison or even execution, in this case, regardless of age.
As reported by The Washington Post on August 20th, "One police official, Qasim Niazi, said when the girl was brought to the police station, she had a shopping bag that contained various religious and Arabic-language papers that had been partly burned, but there was no Quran."
According to Declan Walsh and Salman Masood of the New York Times, published August 20th, "This case exemplifies the absurdity and tragedy of the blasphemy law, which is an instrument of abuse against the most vulnerable in society."
Police official, Qasim Niazi reported to CNN that, "The mob wanted to burn the girl to give her a lesson." and said "Other Christian families living in the area have fled fearing a backlash."
According to Illuminated Publications Limited, "we are sure to hear more about the Sultan of Monte Cristo as he and his book continue to spread through Pakistan and the Middle East and become more widely available. As of now, no law has been made regarding reading or possessing the book, the 'Sultan of Monte Cristo.'"