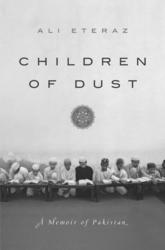 San Francisco, CA (PRWEB) October 16, 2009
Before Ali Eteraz's expected birth in Pakistan, his father made a pilgrimage to Mecca in Saudi Arabia, and vowed that if his child were born a boy he would be made to become a servant of Islam. When Eteraz -- who at birth was named Abir ul Islam ("perfume of Islam") -- was just eleven months old, his mother traveled on hajj to Mecca and rubbed the toddler's chest against the Ka'ba, the holiest shrine of Islam. The gesture solidified the pact the parents had entered with Allah. So begins a life of comic tribulation, theological obsession, and debilitating guilt, as Abir attempts to reconcile the promise his parents made on his behalf with the business of coming of age; all while attending a madrassa in rural Pakistan, going to public school in the American Bible Belt, turning into a fundamentalist in Manhattan, and eventually, traveling to the modern Middle East to foment an Islamic reformation.
Children of Dust: A Memoir of Pakistan (HarperOne; October, 2009; Hardcover; ISBN 9780061567087) is about a Pakistani male's journey of autonomy set against the backdrop of global Islam and located deep inside Pakistan's colorful but thus far neglected international diaspora. The timely piece of literature provides an engaged look at the pain, pathos, and laughter among Muslim-American lives otherwise obscured by abstract ideas such as "the clash of civilizations" and "the war of ideas." Meanwhile, Pakistan, one of the most mystifying countries in the world, is illuminated as never before, as Eteraz recounts his experience at a madrassa in the desert, shares stories about magic and apocalyptic theology, describes the country's cultural landscape during the Soviet-Afghan war, and reveals his encounters with both the military and the Taliban in the late 90's.
Added to the mix is the author's sense of humor as he relates the stories of all sorts of fundamentalists with whom he grew up -- from his mother who experimented with Arab Salafism, to the pitiable missionaries from the Tablighi Jamat intent on bringing salvation to every Muslim, and the political activists who use Islam to advance their various agendas. Eteraz reflects on the intensity and single mindedness with which he threw himself into becoming not just "a" voice of Islam but "the" voice of the faith. Children of Dust offers insight into the life of a boy who simultaneously resents that his family's Quranic study session interferes with watching his favorite TV show, Boy Meets World. It shows a young adult intent on portraying himself as a pious Islamic leader all while realizing that what really thrills him is the power he exerts over fellow college students, especially the coeds. With gentle self-deprecation Eteraz tells the story of every young person trying to figure out what they believe about religion, people, and life. His is a universal story told through the lens of Islam and Pakistan.
Children of Dust is an illuminating and elegantly written memoir that will compel believers and non-believers of all stripes to turn the page.
Ali Eteraz was born in Pakistan and moved to the U.S. when he was eleven. He studied philosophy in college, where he wrote his honors thesis on Nietzsche, and later attended law school where he earned a fellowship in public service and interned on human rights cases. After a short stint working in the area of corporate litigation he switched to a writing career. He is currently a contributor to The Guardian, True/Slant, and Dawn, Pakistan's largest and oldest English language daily. His articles have been published by Dissent, Foreign Policy, and Parabola, among others, and have been linked by hundreds of blogs, including NYTimes, The Atlantic and Time Magazine. He is currently at work on a series of linking short stories. Visit the author online at http://www.alieteraz.com and find more information about the book at http://www.childrenofdust.com
Children of Dust
A Memoir of Pakistan
by Ali Eteraz
Hardcover; $25.99
ISBN: 978-0-06-156708-7
On sale October 13, 2009
###