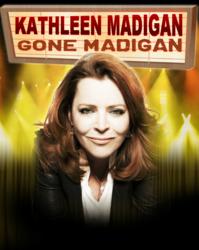 Easily one of the best comics alive. – Ron White
Stamford, CT (PRWEB) August 23, 2012
Stamford Center for the Arts is pleased to announce Kathleen Madigan's "Gone Madigan" national theater tour is coming to the Palace Theatre in Stamford on Saturday, September 15th at 8 PM, sponsored by the WWE, World Wrestling Entertainment. This will be the opening show of SCA's 2012-2013 Season celebrating the 85th Anniversary of the Palace Theatre, sponsored by Seaboard Management Properties and The Whittingham Family. Tickets are on sale now.
In her 22-year career, Kathleen Madigan has never been hotter. With her recent Showtime special, Gone Madigan, in constant rotation and the CD-DVD of the special topping the Amazon and iTunes charts, Madigan has the entire year booked with over 100 theater gigs across the country and numerous television appearances.
Kathleen made her second Chairman of the Joint Chiefs of Staff's USO Holiday Tour of Iraq and Afghanistan in December 2010 where she shared the stage with Robin Williams, Lewis Black, Lance Armstrong, Kix Brooks and Admiral Mike Mullen who hosted the tour. She has had countless appearances on "The Tonight Show with Jay Leno," "The Late Show with David Letterman," "Late Night with Conan O'Brien," and every other late night show that has come and gone. She starred in her own hour specials on both HBO and Comedy Central. In addition to the stand-up appearances, Madigan has been a correspondent for "The Dr. Phil Show," ESPN 2 and has done commentary on VH1, CNN, E!, CMT and TV Guide's Emmy Red Carpet.
Kathleen also just appeared in Ron White's Comedy Salute to the Troops 2012 which premiered on CMT on July 1st. The special was filmed at the historic Grand Ole Opry in Nashville, TN, and Madigan joined good friends Ron White and Lewis Black on stage along with hilarious comics Mike Wilmot, John Pinette and Jake Johannsen.
Madigan has won the American Comedy Award for "Best Female Comedian" and the Phyllis Diller Award for "Best Female Comedian." Although she has turned down many writing jobs because of her love of performing, Madigan has written and produced for Lewis Black's "Root of All Evil" on Comedy Central and for Garry Shandling. "I'll write for other people –not many– but a few and only if they have a clear voice and persona that I already think is funny and if they let me write in my pajamas and smoke" said Madigan about her writing experience.
She remains the only comedian in the history of NBC's "Last Comic Standing" to go unchallenged by any other comedian--meaning no other comedian would say they were funnier than her. Madigan was a finalist in season 2 of "Last Comic Standing" and a judge on season 5. Kathleen says "It was fun to judge it once, but never again. I just can't think of 2,000 ways to tell someone they're not funny without turning into a full blown alcoholic."
After 22 years of 300 nights on the road, her goal remains to move to Ireland and drink Guinness while feeding her sheep herding dogs.
For more information about Kathleen Madigan go to KathleenMadigan.com and follow her on Twitter @KathleenMadigan.
Tickets for Kathleen Madigan: Gone Madigan are on sale now and can be can be purchased at the SCA website http://www.SCAlive.org, charged by phone with major credit cards by calling the SCA Box Office at 203-325-4466 or in person at the Palace Theatre Box Office in downtown Stamford, CT. The box office is open Monday-Friday from 10am to 6pm.
For additional information visit the SCA website at http://www.SCAlive.org or call 203-325-4466.
About the Stamford Center for the Arts:
The vision of the Stamford Center for the Arts is to be the regional arts center for exciting entertainment that enhances and enriches the cultural, educational, economic, and social life of the community. The SCA strives to achieve this vision by demonstrating integrity in all work and relationships, providing service and quality in all activities, fostering and promoting diversity of thought, ideas and culture, providing stewardship for the Stamford Arts community, emphasizing outreach in our community, and offering creativity in all endeavors. Major funding is provided by the Department of Economic & Community Development.
# # #