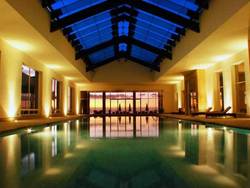 The cost of living, also an important factor for retirees, is lowest in Baja
Baja California, Mexico (PRWEB) September 16, 2010
Palacio del Mar, a luxury resort located in Rosarito Beach Mexico is celebrating this September its second year of being one of the most successful community developments in Baja despite de hard times for real estate developments. This is in no small part due to the cost savings the resort and its location represent; adding up to millions when compared to cities like San Diego, Vancouver and Miami.
The biggest difference between these cities being the actual purchase price of the units, but after adding property taxes, home owner association fees (HOAs) and cost of living expenses, the differences stack up making it clear why it would be an attractive option especially for retirees.
Luxury developments have now become a regular sight in major cities and tourist destinations offering high quality finishing materials along with a combination of amenities which differentiates one development form another usually with a price tag close to or over a million dollars. For example: a small condo in Vancouver can start at around $700K to more than $3M for over 2000 sq ft; in Miami a luxury condo can be anywhere from 1M to well over 6M; downtown San Diego has a similar price of 1M to around 3M, whereas Palacio del Mar's prices start at $320K.
Property taxes are also a consideration for buyers for instance, Miami property taxes are 2% of the purchase price, 1.2% for San Diego, 1% for Mexico, while Vancouver is on average less than 1% but ultimately the purchase prices in Palacio is considerably lower. HOA fees, also a considerable expense range from $400 a month to well over $1500 in the US and Vancouver increasing with the amount of amenities offered compared to $450 in Palacio for over 10 amenities including concierge and shuttle service.
The cost of living, also an important factor for retirees is lowest in Baja with a cost of $500 in groceries (for a small family) with the highest being San Diego at around $800 (both of which can be less for bargain hunters); the cost of gas is lowest in Baja at $2.60 per gallon with the highest being Vancouver at $4.46 per gallon; health care premiums for individuals can be about $2000 in Mexico (much lower for government health care) and around $3000 or higher depending on the policy or deductible in the US (also varying in each state; movie tickets are $2.70 in Baja vs up to $13 in Vancouver.
Weather wise, San Diego has been said to have the best weather in the US and Rosarito has very similar conditions, temperature ranging from 50–68 °F in winter and 73–80 °F in the summer, ideal for outdoor activities like surfing, camping, dinning, hiking, culture, night life, shopping and getting pampered. One significant difference that Palacio has to Vancouver, San Diego and Miami, is that is not located in a major metropolitan area; located a few minutes away from downtown Rosarito, is far enough away to be a quiet getaway with the advantage of being a short drive away from the Guadalupe Valley.
David Stibor a Dentist in Las Vegas and Lonnie Stibor a Las Vegas realtor, have this to say about Palacio Del Mar: "My wife and I have been sharing our time between Las Vegas and Palcio Del Mar since we bought here 2 years ago, and all I can say is I wish we had found this place years ago. The weather is perfect, the people are wonderful, and all the bad press is terrible. We feel safer here than we do in many U.S cities. The great food, great golf and the beautiful ocean at our doorstep, what more could you ask for!"
Palacio del Mar is located off the Rosarito - Ensenada toll road just 40 minutes from the San Ysidro border. It is a short drive away from Bajamar, Lobster Village at Puerto Nuevo and the vineyards in the Guadalupe Valley, which is the largest wine producer in northwest Mexico. Palacio del Mar offers shuttle service to these locations, as well as to and from San Diego and Ensenada. Palacio also offers weekly rentals; for more information on pricing, tours and appointments visit PalacioDelMar.com.
###