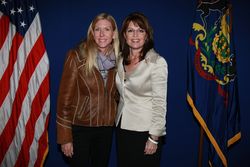 There is so much negativity surrounding the campaigns. This is not about politics
Kennett Square, PA (PRWEB) October 21, 2008
Momtrepreneur Suzanne Longacre of Kennett Square, PA, was invited to attend the Republican Campaign Rally at Clipper Stadium in Lancaster, PA on Saturday to present Governor Sarah Palin with a "Baby-Shower-To-Go" for her daughter, Bristol.
Longacre, who truly admires the accomplishments achieved by Governor Palin, founded Suzibella in 2002, a small business which designs and sells heirloom quality baby gifts to over 500 baby boutiques nationwide. To help market her business, Longacre partnered with other "Momtrepreneurs" throughout the country to form "Mama Mia," a cooperative aptly named to help maintain the balance between "business and babies." When the group heard about Sarah Palin becoming the Vice Presidential Candidate, and her daughter Bristol expecting Sarah's first Grand-Baby during this whirlwind of events, their first thought was, "We need to help Governor Palin with her daughter's baby shower." Although the group has varied political views, it was unanimous that they gift Governor Palin. "There is so much negativity surrounding the campaigns. This is not about politics," says Suzanne Longacre. "Whether Republican or Democrat, black or white, this gesture is about pink and blue; to come together despite who you are voting for, and to help a Grandma-to-be celebrate a new life."
On Saturday, October 18, 2008 Longacre presented the gifts to Governor Palin on behalf of the "Mama Mia Momtrepreneurs." Included in the gifts was a patriotic teepee for her new Grand-Baby, in addition to many other wonderful products.
"We wanted Governor Palin to take a moment to stop and enjoy the excitement and anticipation of her new role as Grand-VP-Ma," says Longacre. "And the timing was perfect--she had such a busy day with her Rally in PA and then her highly anticipated appearance on Saturday Night Live that evening. She deserved to have a few minutes to see all the beautiful gifts and just be a Mom and Grandma-to-be."
Motherhood is the Necessity of Invention--Mama Mia Showroom
http://www.MamaMiaShowroom.com; http://www.suzibella.com
Products Included in "Baby-Shower-To-Go":
TeePee, NappiSak and Keepsake Box by Suzibella
Moses Basket by Lil Ladybugs
Backpacks by Four Peas
Breastfeeding Bonnet by Moboleez
Hooded Towel by Yikestwins
Bag and Babycake by Babycakes of Scottsdale
Binky Baggy by Trend Setting Moms
###