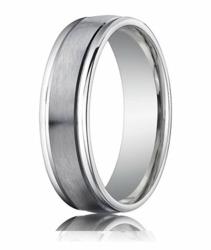 While the popularity of newer metals may rise and fall, JMR has seen consistent interest in men's designer palladium rings.
Jensen Beach, FL (PRWEB) January 25, 2012
In keeping with JustMensRings' (JMR) commitment to meet the ever-changing needs of men's ring buyers; the retailer is happy to offer a wide range of men's palladium rings for their value-savvy customers. JMR's shoppers have come to expect the greatest variety of metals from their online store, plus several designer collections from Benchmark. Benchmark was the first major designer to introduce men's designer palladium rings to the marketplace, and they've seen incredible sales growth with these collections. Because they so closely resemble platinum, palladium rings offer JMR's customers yet another terrific alternative to expensive precious metal jewelry.
In addition to their premium designer collections in gold, platinum, diamond, seranite and Argentium silver, JMR is among the first retailers to offer a selection of men's designer palladium rings. As gold prices rise and jewelry buyers become more practical in their selections, palladium is expected to be a popular choice for men's rings this year. JustMensRings.com has earned a solid reputation for offering shoppers the best selection of traditional and alternative wedding rings in styles to match every man's personal style. Palladium rings were among the first collections featuring a contemporary metal in men's jewelry, but the retailer has found that very few people know about the history of this metal, and why it is so different from traditional and industrial jewelry materials.
Now in their seventh year, JustMensRings.com has become known as one of the most successful retail marketers in the jewelry industry. A major contributor to the long-term success of this retailer is their commitment to being a comprehensive resource for online shoppers in search of a ring. When shoppers visit the web site, they find an endless selection of men's rings in gold, silver, platinum, tungsten, titanium, cobalt and palladium, plus recently added designer collections of diamond, seranite and Argentium silver rings. While the popularity of newer metals may rise and fall, JMR has seen consistent interest in men's designer palladium rings.
Despite their longevity as a top pick for wedding ring buyers, palladium rings have not been as widely promoted in recent years. Rather, industrial metals like tungsten and titanium have been featured prominently at international jewelry shows. But it looks like men's designer palladium rings are making a comeback. While they may be a little more expensive than some of the edgier industrial metals, most jewelers regard palladium as a precious metal. Mined right alongside platinum, it is harder to melt into fine jewelry molds, so it was long considered a "strategic metal" for use by the military. Its debut in the jewelry world came when it was used for setting diamonds. The alloy, which contains 95 percent palladium and 5 percent ruthenium, produces a very brilliant and sturdy metal that is even purer than white gold.
Some of important factors that set designer men's palladium rings apart include their weight, brilliance and competitive price. Palladium is neither too light nor too heavy on the hand, and it has a brightness that is comparable to platinum. For men who cannot wear white gold, these men's rings are a hypoallergenic alternative. Palladium is also strong enough to absorb sharp blows without scratching and will not wear away like gold often does.
Pricewise, palladium rings are very attractive. For men who prefer a precious metal for a wedding band but don't want to spend too much, palladium rings are the perfect alternative. It is just as rare and pure as platinum, but it costs much less because of lower demand in the marketplace. Palladium is currently about one-fifth the price of platinum, but as demand increases; the price may start to go up, making the selection of a palladium wedding ring a smart investment. JMR is pleased to offer their customers a terrific selection of designer men's palladium rings to match their customers' individual style.
About JustMensRings:
As an Internet-only retailer, JustMensRings.com is dedicated to providing a simple and secure online shopping experience. This is one site where customers know they are getting the best possible prices on an extraordinary selection of men's rings. JMR's customers have come to expect high standards of service, selection and quality when they shop at JustMensRings.com. In fact, Just Men's Rings (http://www.JustMensRings.com) now offers the largest selection of men's fashion rings on the Internet, and they are the only store in the U.S. that offers men's large size rings through size 20. They also lead their competitors with an unparalleled assortment of unique and alternative men's wedding rings, and JMR is known for their very low prices on men's gold rings. Despite the recent rise in gold prices, JMR keeps their prices low and affordable, and shoppers won't find better prices on silver, cobalt, palladium or platinum anywhere.
# # #