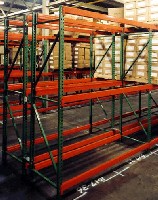 We will provide pallet racks to any customer possible
Atlanta,GA (PRWEB) January 06, 2012
When customers want pallet racks, there is no time to waste. Typically pallet racks are ordered just after they are required! A Plus Warehouse is offering Wireway Husky tear drop pallet rack that solves the lead time problem. Standard sized tear drop pallet rack now ships in 48 hours from a centrally located warehouse, and there are other satellite distribution points available as well!
A Plus Warehouse is a pallet rack dealer, with a long history of providing only the best pallet racks nationwide and in Canada. Jim O'Sullivan , the product manager at A Plus Warehouse expresses his pleasure with Wireway Husky's shipping times " Not only do we offer the best service to our customers , but we now ship orders immediately! Selling pallet racks is almost too easy now!" Indeed, A Plus Warehouse customers do benefit from prompt shipping times on tear drop pallet racks. That, however is not the end of the story!
A Plus Warehouse also ships keystone pallet racks promptly, and there is now an offering of structural pallet racks as well. The interesting thing about A Plus Warehouse's structural line of pallet racks is that it is displayed at all! Over 90 percent of pallet rack orders can be handled with tear drop or keystone roll formed racks. A Plus Warehouse believes that the other ten percent of customers should not be thrown out, and therefore created a page dedicated to structural pallet racks. All the items shown carry an advertised price , which is unheard of in the market for specialized pallet racks. Quoting Mr. O'Sullivan again, "We will provide pallet racks to any customer possible. If our customer need heavy duty structural pallet rack , we will be the company that shows the product"
The focus of this Press release is the fact that Wireway Husky tear drop invincible style pallet racks and parts are to a large extent now available in a quick ship program. There are other facts to consider. Manufacturing in USA is such a quaint idea. Is anything actually produced in the lower 48 states anymore? Yes! Wireway Husky has a plant cranking out pallet racks in North Carolina for domestic consumption! In fact , A Plus Warehouse can export pallet racks almost anywhere. Americans still make stuff , and A Plus Warehouse is pleased to sell a fine American line of pallet racks. As an aside , our structural pallet rack is produced in USA as well.
About A Plus Warehouse:
A Plus Warehouse has been selling pallet racks and pallet racking nationwide since 1996. A Plus Warehouse wants your business and will offer you a five percent discount on your pallet rack order – just ask when you call or email.
###