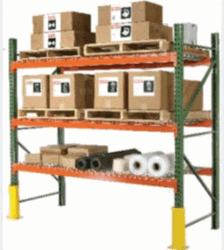 Ordering Pallet Rack From A Plus Warehouse Is Easy
Dallas,TX (PRWEB) June 07, 2013
Pallet Racks are a specialty at A Plus Warehouse. Pallet racking is sold either pre-configured or by components. A Plus Warehouse used to display pallet racking wire decks on an independent page. Wire Decking is now shown along with pallet rack uprights, beams, spacers, and post protectors. According to Ed Stairman, "Why make pallet rack ordering difficult – customers deserve easy ordering"
About 20 percent of pallet rack customers order wire decking. For this reason, A Plus Warehouse started offering pre-configured pallet racks with wire decking a few years ago. The pre-configured offering only covers a few popular sizes. The motivation behind adding wire decking to the tear drop racking page was to allow customers to easily design a rack unit without bouncing into secondary pages.
Pallet racks are used in industry, and Wireway Husky produces many great quality racking products. A Plus Warehouse is pleased to be a nationally franchised dealer for Wireway Husky. Here is a list of some items shipped from stock and offered at the A Plus Warehouse website.
(1) Tear Drop Pallet Racks – Old Fashioned warehouse racking – Green Uprights with Orange Beams.
(2) Lynx Racks – Yellow Uprights with Green beams. These are Penco Inspired. Penco also offers a fine line of pallet racks
(3) Rack Guard – Wire Mesh screens that prevent stock from falling off the racks.
(4) Post Protectors – A speeding forklift can really cause trouble to a pallet rack. Customers should invest in post protectors.
(5) Wire Partitions – Before there was Wireway Husky, there was Wireway – a company started in Massachusetts that manufactured woven wire partitions. They still make wire partitions in 3 categories – in Massachusetts as well as North Carolina. A Plus Warehouse can quote wire partitions. Customers should email or fax a sketch to the A Plus Warehouse sales office.
Both tear drop and Lynx racks have their own benefits and features. Lynx has an attractive yellow beam that many find appealing. Additionally, Lynx Pallet Racks are offered in 6 feet high as a standard in stock option. The tear drop racks are offered with many more height and width options. In fact, if customers want deeper than 42 inches and taller than 12 feet, tear drop is the smart choice. Whichever style a customer chooses, pre-configured complete units are offered to simplify the ordering process.
A Plus Warehouse is a national pallet racks dealer, but provides related equipment also. It is only logical that a pallet rack dealer would also stock industrial shelving, Storage Bins, Conveyors and Work Benches. A Plus Warehouse sells all these items nationwide.
Customers are encouraged to call 800-209-8798 with any questions.