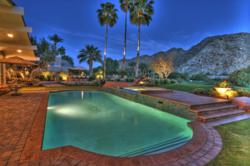 We may never see the likes of this type of buying opportunity in our lifetimes again.
La Quinta, CA (PRWEB) September 29, 2011
Brad Schmett, Broker Associate with Luxury Homes by Keller Williams and real estate expert, has announced today that there is no better time to purchase Palm Springs real estate. Palm Springs, CA real estate is more available and more desirable than ever before, and a unique combination of factors has combined to make this the most opportune time to buy.
Brad is an expert in Palm Springs real estate, helping sellers ensure their property is positioned to sell, and ensuring that home buyers are able to make the most of their investment. Through his many years of service, Schmett has honed his expertise and created a reputation for providing the highest level of service possible.
According to Schmett, "A rare combination of economic, financial and local real estate market conditions has created a near "perfect storm-like" scenario that has set the stage for an incredible residential real estate buying opportunity for properties in Palm Springs, La Quinta and the surrounding desert cities."
These factors include the lowest prices in over a decade for Palm Springs and La Quinta real estate, as well as a higher than normal level of attractive property inventory. Home buyers and investors now have more options than ever before in the Palm Springs luxury real estate market. Combined with historic lows on mortgage interest rates, these factors make for more than simply an "appealing" market for buyers – it creates a situation rarely seen before.
Schmett urges, "We may never see the likes of this type of buying opportunity in our lifetimes again." That's certainly true. As the real estate market corrects itself, these conditions will disappear. "The price-value proposition here in the Palm Springs area is extremely attractive for buyers. As a general rule, prices have been rolled-back to 1999-2002 price levels and property inventory levels are higher than normal with an abundance of quality homes and condos available. On top of that, buyers who want to create leverage by borrowing can take advantage of historically low interest rates," Schmett states.
Already, international buyers are snatching up available Palm Springs homes for sale. The exchange rate for Canadian buyers in particular is extremely attractive. Brad Schmett notes, "For the past few years, astute Canadian buyers have been the beneficiaries of our "buyer's market". With market conditions even more opportune than before, I feel this Canadian buying frenzy will continue to grow."
To find out more about investing in Palm Springs, California real estate visit http://www.LaQuintaRealEstateInfo.com.
About Luxury Homes by Keller Williams: Luxury Homes by Keller Williams is an exclusive, elite and sophisticated group of real estate consultants raising the bar for service in the upper-tier residential real estate market.
###