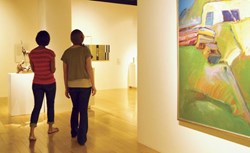 There is no museum more prestigious than the Palm Springs Art Museum in Palm Desert.
(PRWEB) November 21, 2013
Brad Schmett, Broker Associate with Luxury Homes by Keller Williams announced today that local real estate will profit considerably thanks to The Galen and the Faye Sarkowsky Sculpture Garden at the Palm Springs Art Museum in Palm Desert who will host the Meet The Galen Membership Drive Party, on Friday, November 22, 2013, from 6-8 p.m.
An early sell out is expected as the main feature of the event will be Galen at the Galen, an exhibit of exquisite works of art from the famous private collection of Helene Galen. Event Chairs Jamie Kabler and Susan Stein have invited guests to come early to partake of complimentary cocktails and hors d'oeuvres along with entertainment by DJ Alf Alpha.
Schmett recently discussed the epic 75th Anniversary event, "There is no museum more prestigious than the Palm Springs Art Museum in Palm Desert. With its close proximity to La Quinta and to El Paseo it attracts the discerning art crowd who enjoy the finest in artistic talent and can afford to indulge their preferences. With The Season getting officially underway this month we will be extremely busy showing luxury homes to the many snowbirds and others who make this valley their second residence. We are delighted to welcome them back home."
The Kickoff Event to the museum's 75th year will raise funds to support the museum and its "mission to bring groundbreaking art work and innovative art education experiences to the Palm Springs area as well as outstanding multi-disciplinary events to the museum's Annenberg Theater and other museum venues" as expressed by the venue's mission statement.
For more information on Meet the Galen visit http://www.psmuseum.org/meet-the-galen.
To find out more about investing in Palm Springs, California real estate visit palmspringsrealestateinfo.com.
About Luxury Homes by Keller Williams: Luxury Homes by Keller Williams – Palm Springs, is an exclusive, elite and sophisticated group of real estate consultants raising the bar for service in the Palm Springs area residential real estate market.