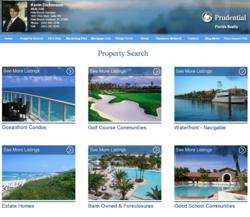 A new website provides a free list of Florida bank owned and short sale properties.
Palm Beach, FL (PRWEB) October 02, 2012
A subscription based website that claims to be the most trusted source of foreclosure data for CNN, NBC News, ABC News, The New York Times, The Wall Street Journal and CBS News has significant data errors, according to Kevin Dickenson with Prudential Florida Realty.
The website charges customers $49.95 per month or $249.95 per year for a list of bank owned homes and pre-foreclosures or short sales.
"The site offered a free 7 day trial, so I ran a search for Palm Beach bank owned condos in the tower where I live," Dickenson said. I compared the four results against the Property Appraisers website, and discovered that only one out of four properties was bank owned. The other three were data errors. One condo is owned by a partnership, and the other two condos were sold by banks in March 2012 and May 2011.
"When I saw properties that sold 15 months ago listed on a website you pay for, a light bulb went off in my head," Dickenson said. "I saw an opportunity to develop a free user-friendly website for Palm Beach foreclosures and bank owned homes using a much more accurate data feed.
The MLS is an internet based system for realtor's to market properties for sale and rent. The current system requires Realtors to disclose if a property is a short sale or preforeclosure, but there was no requirement to disclose a bank owned property. In fact, most banks have a clause in their listing agreement that restricts Realtors from advertising a property as bank owned.
"I contacted the MLS board, and after considerable debate, they agreed that Realtors must disclose that a property is bank owned," Dickenson said. The MLS modified the software, and within weeks, Dickenson designed a free user-friendly website that pulls data from MLS short sale and bank owned data feeds. The new website lists Florida bank owned homes and short sales by city and the results are 100% accurate and totally free.
"If you're considering a short sale, it is imperative to retain a knowledgeable realtor skilled in the art of researching mortgages and liens," Dickenson said. A knowledgeable realtor can determine if a property is worth pursuing and set up an automated search to notify clients the same day a property is listed. Since most lenders require borrowers to list short sale properties with realtors, it makes sense using a realtor as your guide whether you are buying or selling.
Kevin Dickenson is a top producer at Prudential Florida Realty with over $24 million closed in 2011. Visit http://www.kevindickenson.com to start your free search for South Florida foreclosures.