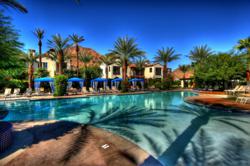 Canadians may never see the likes of this type of buying opportunity in our lifetimes again.
La Quinta, California (PRWEB) December 27, 2011
Brad Schmett, Broker Associate with Luxury Homes by Keller Williams and real estate expert, has announced today that real estate in Palm Springs and neighboring La Quinta, California is selling fast, with Canadian "snowbirds" arriving en masse before the start of "high season", and buying at "pre-season" record levels. Favorable economic factors on both sides of the border, coupled with the start of the frigid Canadian winter, has combined to make now the most opportune time for Canadians to buy Palm Springs CA real estate.
Brad Schmett, an expert in both Palm Springs real estate and La Quinta real estate, devotes a considerable portion of his time helping Canadian home buyers maximize their real estate investment. Through his many years in the real estate industry, Schmett has earned a reputation for providing the highest level of service to his clients.
According to Schmett, "It's common to see a fair number of Canadians arrive here in Palm Springs in advance of the January 1 commencement of our "high season." However, during the past 90 days, we've seen far more Canadians arrive, to purchase second homes and vacation properties, than the Palm Springs area has ever seen before. As a result, real estate sales throughout the Coachella Valley are up dramatically, near levels we normally would expect to see in March, which is peak time for visitors to Palm Springs area." The Palm Springs area experiences near "perfect weather" during winter, making January 1 through April 30 considered "high season" for the resort-driven community.
A strong Canadian dollar combined with a weak Southern California real estate market, has made real estate in the Palm Springs, CA area a prime target for Canadians looking to take advantage of market conditions. "Many of my clients are Canadians looking for a place to retreat to during the cold Canadian winter season – and they're also looking for an opportunity to make a wise investment. Buying a second home or vacation home in Palm Springs satisfies both of those requirements," states Schmett.
Brad Schmett, a broker with over 25 years of business experience, has acquired a keen understanding of the needs and concerns of his clients, in particular his Canadian clientele. "Many of my Canadian clients are baby boomer age with a fair amount of cash to invest. They look to Palm Springs real estate as their investment of choice because there are so many incredible properties available – at 1998 to 2002 price levels. They see the phenomenal opportunity the Palm Springs real estate market is presenting to them – and they want to take advantage of it while it lasts," says Schmett.
The lowest real estate prices in over a decade, coupled with a high inventory level of both Palm Springs homes and La Quinta homes for sale, has given Canadian buyers more options than ever before in the greater Palm Springs, California real estate market. Schmett urges, "Canadians may never see the likes of this type of buying opportunity in our lifetimes again. Now is definitely an incredible time to buy Palm Springs real estate."
To find out more about investing in Palm Springs real estate visit http://www.LaQuintaRealEstateInfo.com.
About Luxury Homes by Keller Williams:
Luxury Homes by Keller Williams – La Quinta, is an exclusive, elite and sophisticated group of real estate consultants raising the bar for service in the upper-tier La Quinta and Palm Springs area residential real estate market.
# # #