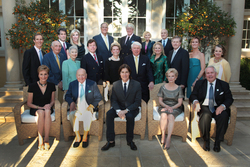 "Our goal was to create the most fun, elegant and spectacular events Palm Beach has ever experienced" - Olympia & Troy Devine, owners of Devine Style Inc.
Palm Beach, Florida (PRWEB) April 20, 2011
Even by Palm Beach standards this was a pretty good weekend for all Palm Beach residents as they celebrated the town's 1911 incorporation.
Friday night, the private Mar a Lago Club and Mr. Donald Trump hosted the Centennial Opening Night Cocktail party. Mr. Trump held a press conference while the party was in progress to announce it was a record group and "…probably the best party we ever had at Mar-a- Lago." 1,000 guests, including members of the Club mingled around the pool and in the historic Marjorie Merriweather Post White & Gold Ballroom. Entertainment was by Bob Merril and his orchestra as well as the hottest South Florida party DJ so that every age from the most venerable Palm Beachers to the 4th and 5th generation twenty somethings were thrilled.
Saturday night, The Breakers Palm Beach hosted the Recognition and Thank You dinner for the Centennial Ambassadors (The Island's 1st families and residents with worldwide reputations who have a connection to Palm Beach for 50+ years) and Major Donors to the Centennial Celebration. The menu was taken from the archives of 1911 and included caviar, lobster poached in champagne, beef wellington and coconut crème brulee. The Breakers Palm Beach President, Paul Leone described the event as one of the Top 5 most special evenings in the Hotel's History rivaling the dinner held when the Resort was given the prestigious Mobile 5 Diamond Award. Guests included the inner circle of Palm Beach: 360 Residents included Llwyd Eccelstone, Hillary & Wilbur Ross, Ambassador Nancy Brinker, Grace & Sen. Bill Nelson, Rose Sachs, Lourdes & Pepe Fanjul, Jr., Mary Bolton, Betsy & George Matthews, Barbara & Morton Mandel, Jean & Will Matthews, Diana Holt, J.R. Arnold, Jr., Renate & Alex Dreyfoos, Hildegard Mahoney, David Reese, great grandson of the Island's first Mayor, Florida Developer, Irwin Levy and his wife Ellen, Liz and Dr. Robert Green, Mrs. Philip Hulitar, Brownie McClean, Camille & Edward Kassatly, Elsie Leviton, Dr. Sol Rotter, Janna & Stanley Rumbough, Lesly Smith, former mayor and Town Manager Peter Elwell.
Sunday at the Flagler Museum was the actual Centennial Celebration. The evening began with parade of more than 1,200 participants promenading from the Palm Beach Day Academy to the Flagler Museum…Yes, there was a parade! Only in a small town like Palm Beach could this happen with famed designer, Congressman Alan West, Mayor Coniglio and Lily Pulitzer near the front and dozens of antique cars taken from the famous collections in Town. The parade was organized by Head of School, Dr. Rebecca Van der Bogart and community volunteers, Jaimee Peirce and Rick Rose.
Then, almost exactly 100 years to the minute after Palm was incorporated as a Town, approximately 4,000 Palm Beach Residents and Palm Beach Friends sang Happy Birthday with Governor Rick Scott, Congressman Allen West, Palm Beach Mayor Gail Coniglio and the Town Council, David Rosow, president, Robert Wildrick, president pro tem, Bill Diamond, Dick Kleid, Michael Pucillo and Centennial Commission Bill Bone. Rounding out their voices were the 100 children of the famed Young Singers of the Palm Beaches. The ceremony also included a specially created film with cameo appearances by famous Palm Beachers such as author James Patterson, radio personality, Rush Limbaugh, actor Burt Reynolds, Donald Trump, singer Vic Damone, designer, Arnold Scaasi, and dozens of local personalities like Kathleen Ferris, the crossing guard and Nikerya Payne, the check out clerk at Publix.
Perhaps the most surprising part of the night was the premier presentation in South Florida of a jaw dropping "sound & light" show with 3-D image mapping projected onto the entire front façade of the Flagler Museum and ending with Tchaikovsky's 1812 overture (a nod to former mayor Paul Ilynski, a member of the Russian Royal Family) that were synchronized with fireworks over Lake Worth.
The Centennial Commission had virtually no budget and no paid employee just 10 weeks before the big day. However, the weekend of celebration exceeded everyone's dreams and expectations largely due to the enthusiastic efforts of Centennial Chairman, Bill Bone, noted Trial Lawyer, native of Palm Beach County, fearless father of 4 teenagers in grades 8-10 and longtime resident of Palm Beach who is universally credited with imagining the series of events from beginning to end and inspiring a host of wealthy and successful Palm Beach residents to support the Celebration financially and with their time. By Centennial day, the operating team included 30 staff (including the event coordinating and PR Firm – Devine Style Inc. which professionally produced every event), and over 250 volunteers, numerous sponsors, organizations and Town staff who worked off duty. Not one public dime was spent on the event which cost approximately $1 million. All of the money was raised personally by Bill Bone and the very special group of people tapped to serve as Event Chairs. They are: Miriam & Alec Flamm, Sylvia Hassenfeld, Bobbi & Dr. Harry Horwich, Michele & Howard Kessler, twin brothers, Bill & David Koch, Talbott Maxey, Peggy & Dudley Moore, Tom Quick, and Kathryn & Leo Vecellio.
Devine Style Inc, is an international PR/Marketing and event planning company, based in Palm Beach and owned by Olympia Devine and her son Troy Devine. They were brought into the Centennial project just weeks before the actual day. Within this time frame and at the request of the Centennial Commission, they established all the branding, marketing, PR and major production elements for the April 15 – 17, 2011 festivities. Events such as these would normally take a year or more for pre-event planning, but through the tireless efforts of volunteer Chairman, Bill Bone and the Devine team, Palm Beach experienced the most spectacular weekend of events in its 100 year history.
Rush Limbaugh and his wife Kathryn were the lead donors with the Koch Brothers, The Fanjul family, Eva & Dan Abraham, Michelle & Howard Kessler, Betsy & George Matthews, Marjorie S. Fischer, Daniele Hickcox Moore, Sondra & David Mack, Wells Fargo & Company, Alex & Ani jewlers of Palm Beach and Rhode Island, Florida Crystals, The Palm Beach Daily News, The Breakers Palm Beach, The Flagler Museum and Publix Supermarket.
Palm Beach is one of the most unique and special Towns in America. It is located on a 16 mile barrier island located on the East coast of Florida, (commonly called the "gold coast" for the wealth of its residents) with a year round population of less then 10,000 permanent residents and some of the nation's strictest development limitations and preservation laws. However, every season the island swells to three times that size when hundreds of larger than life personalities known around the world for their philanthropy, elegance, wealth and style make Palm Beach their winter paradise. So, it is no surprise that Palm Beach celebrated its Centennial in larger than life terms.
To contact Bill Bone for Centennial Event Quotes: (561) 832 9434.
###