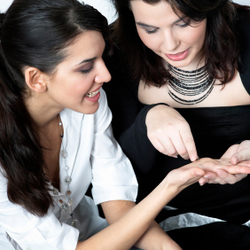 "Thought it was awesome! I have already tried it out on strangers and had one of them in tears due to the accuracy of my readings! Excellent host, very knowledgeable, very patient, very welcoming." J. Cooper, Student, Palmistry Level 1, March 2010
(PRWeb UK) June 16, 2010
Amber Garnet's palm reading workshops in London on 3rd July and 31st July 2010 help students get to grips with palm reading basics in a day. Students can gain the benefit of over 20 years of palm reading experience and come away with simple palm reading techniques that astound and amaze themselves and others.
During the workshops professional palm reader Amber Garnet demonstrates how palmistry is a tool for scientific character analysis as well as intuitive psychic guidance. She gives examples of how a good palm reading can provide profound insight, help clarify personal issues, increase confidence and raise awareness of:

Life purpose, lesson & 'school'
Events and trends: past, present and future.
Potential, talents & abilities.
Career development.
Personality and sexuality.
Emotions, health and sense of well-being.
Behaviour, attitudes and focus.
Amber Garnet is a palm reader and psychic based in London. She has over 20 years experience giving psychic readings using palmistry, tarot, Reiki, clairvoyance and tea leaves. She has been featured on BBC Radio 4's Midweek, BBC3, BBC Persian TV, in Kindred Spirit, Soul & Spirit, Le Cool, Spirit & Destiny, Time Out and The Independent.
Amber Garnet's palm reading workshops near Angel, in Islington, London include techniques that Amber has developed over the course of 20 years as well as those adapted from the work of other palmistry authors/teachers that have proved effective in her private practice. Her students learn palmistry in a fun environment, including how to:
'Wow!' complete strangers with character observations.
See the truth about friends' and colleagues' personalities.
Increase knowledge and understanding of inner self.
Identify and anticipate events and trends.
Combine scientific and pyschic palm reading techniques.
Give accurate basic palm readings - it's easier than most people think.
Booking information:
Palmistry workshop details below. For more information, please telephone 020 3 287 8383 or visit the website: http://www.ambergarnet.co.uk
Workshop details:
Palmistry Level 1
10.30-17.30 Saturday 3rd July 2010 - places available
Cost: £60.00 (advance booking only)
Class size: Limited to 8 people.
Entry requirements: No previous experience is necessary.
Venue: Old China hand, 8 Tysoe Street, London EC1R 4RQ
Advance booking is via Amber's website: http://www.ambergarnet.co.uk
Palmistry Intensive - Level 2
10.30-17.30 Saturday 31st July 2010 - places available
Cost: £60.00 (advance booking only)
Class size: Limited to 8 people.
Entry requirements: Completion of Level 1 workshop advised.
Venue: Old China hand, 8 Tysoe Street, London EC1R 4RQ
Advance booking is via Amber's website: http://www.ambergarnet.co.uk
# # #