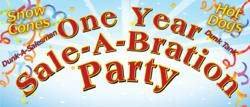 It's hard to believe that a year has gone by already.
Palm Springs, CA (PRWEB) August 16, 2012
Palm Springs Hyundai invites the public to join in marking its one-year anniversary this coming weekend, August 18-19th, with a massive Sale-A-Bration at the dealership. Activities include free food (Trey Wiley's famous barbeque, hot dogs, and snow cones for the kids), a "dunk-a-salesman" dunk tank for buyers who drive home in a new or pre-owned Hyundai vehicle, and plenty of Hyundai's popular vehicles on display.
"It's hard to believe that a year has gone by already," said Jim Harmon, Vice President VIP Motor Cars, Ltd. "Between the customer response and relationships we've seen flourish and the strong pedigree of today's Hyundai vehicles, the past year at Palm Springs Hyundai has been a good one. We couldn't be prouder."
Located at 3919 E. Palm Canyon Drive, the dealership celebrated a Grand Opening last fall after becoming part of the VIP Motor Cars, Ltd. group of Palm Springs, joining VIP's BMW, Mercedez-Benz, and Infiniti offerings.
Identified as a "brand on the move," Hyundai has continued to deliver, both nationally and for VIP Motor Cars, Ltd. and their Palm Springs Hyundai dealership. Current offerings include the all-new Elantra Coupe, the urban Veloster, the top-selling Sonata, the powerful and elegant Genesis, and the recently redesigned, fuel-sipping Accent.
All Hyundai vehicles are backed by America's Best Warranty (10-year, 100,000 mile powertrain coverage) and come with the protection of Hyundai Assurance.
"We hope to see everyone come out this Saturday – current customers and curious friends and neighbors alike," said Trey Wiley, Palm Springs Hyundai General Manager. "Come out and enjoy some food and fun with the family, take a look at some really great vehicles, and get to know us a little bit. We'd love to see you down here."
Palm Springs Hyundai's 1st anniversary Sale-A-Bration takes place at 3919 E. Palm Canyon Drive, Palm Springs, CA. Palm Springs Hyundai is a Hyundai dealership serving Palm Springs, Indio, La Quinta, Palm Desert as well as surrounding areas.
About VIP Motor Cars
Located at East Palm Canyon and Cherokee, VIP Motor Cars, Ltd. provides BMW, Mercedes-Benz, Infiniti, and Hyundai sales and service to the Coachella Valley. With four decades in the auto industry, VIP has deep ties to the area and a legacy of quality vehicles, quality service, and a positive customer experience.
For more information on VIP's four franchises, contact Jim Harmon at 760-324-7071 or visit the websites below:
· Palm Springs Hyundai: http://www.palmspringshyundai.com/
· BMW of Palm Springs: http://www.bmwps.com/
· Mercedes-Benz of Palm Springs: http://www.mercedesofpalmsprings.com/
· Infiniti of Palm Springs: http://www.palmspringsinfiniti.com/