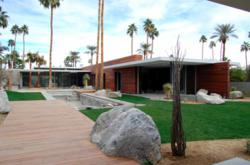 Join PS Mod Com in celebrating these spirited, creative and farsighted individuals who inspire us all to make a difference in our community.
Palm Springs, CA (PRWEB) September 26, 2012
On Saturday, October 6, 2012, the Hilton Hotel Palm Springs will be the site of the annual Palm Springs Modern Committee (PS Mod Com) Annual Preservation Awards. The luncheon event, from 12:00 p.m. to 2:00 p.m. will publicly acknowledge a selected group who through their vision, commitment and talent have preserved the original integrity of or sympathetically restored one of the desert's modern architectural treasures or who has gone above and beyond to keep preservation in the public eye and consciousness. Also recognized are the creators of contemporary new architecture inspired and informed by the modern style.
The 2012 awards honor a broad range of worthy recipients in several categories. They include the Architectural Restoration Award for Kris & James McMillan, Julie Rogers & Mitchell Cowley for their work on 'The Fontenell' in Palm Springs. This seven-unit apartment hotel built in 1958, was the family vacation retreat of cosmetics tycoon Max Factor for 50 years. The property has been brought back to vivid life in a creative and totally correct restoration.
The family of the late Max Palevsky, noted computer magnate and philanthropist, will be honored with the Architectural Preservation Award for their stewardship in maintaining the mountainside Palm Springs home designed in 1968 for Palevsky by architect Craig Ellwood.
Preservationist of the Year will be awarded to Frank Tysen, owner of Casa Cody Inn of Palm Springs. Tysen is being recognized for his decades of tireless work helping to make our desert community an hospitable environment for historic buildings and for guiding and influencing reasoned and appropriate development.
Architect Sean Lockyer will receive the Excellence in New Modern Design Award for his F5 residence in Indian Wells, CA. The home incorporates many of the fundamental tenets of the mid-century modern design philosophy, including careful use of desert-appropriate building materials, a commitment to a seamless 'indoor-outdoor' living experience and the inclusion of natural site features to allow the unique character of the desert to be fully appreciated.
The project to create the new Palm Springs Art Museum Architecture and Design Center Edwards Harris Pavilion has significantly raised the profile of adaptive reuse of historic mid-century buildings. E. Stewart Williams' 1960 Santa Fe Federal Savings and Loan will become a museum dedicated to modern architecture and design in no small part thanks to the commitment of the recipients of this year's Community Enrichment Awards. They will go to Trina Turk & Jonathan Skow, Elizabeth Edwards Harris, John Boccardo and the Palm Springs Art Museum.
The public is invited to join PS Mod Com in celebrating these spirited, creative and farsighted individuals who inspire us all to make a difference in our community. The Hilton Hotel Palm Springs is located at 400 East Tahquitz Canyon Way Palm Springs, CA 92262. Tickets are available for purchase at $50 each. Tables of 10 may be reserved in advance. For tickets please visit http://www.psmodcom.org or for further information, contact Nickie McLaughlin at (760) 835-5628.
About Palm Springs Modern Committee
The Palm Springs Modern Committee (PS ModCom) is a non-profit organization dedicated to the appreciation and preservation of Desert Modern architecture and design. We accomplish this through education, advocacy for threatened buildings, promotion of heritage tourism, and the celebration of successes in preservation and adaptive reuse.
For additional information about PS ModCom, please visit: http://www.psmodcom.org Contact: Nickie McLaughlin psmodcom(at)earthlink(dot)net | (760) 835-5628