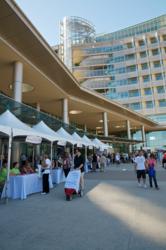 Without the continued support of the community, the architectural marvel in front of us would not be a reality
Escondido, Calif. (PRWEB) July 31, 2012
Thousands of San Diego County area residents got a once-in-a lifetime preview of the new Palomar Medical Center during a community celebration on Saturday, July 28 that marked the completion and pending August 19 opening of the new hospital in Escondido.
An estimated 15,000 people, including many employees, attended the 2 to 9 p.m. event that featured self-guided tours of the 740,000-square-foot, 11-story hospital at 2185 West Citracado Parkway.
Nearly 10,000 celebrants toured the world-class, technologically-advanced hospital during the daylong festivities and had the opportunity to view the main lobby, emergency department, trauma rooms, operating rooms, patient rooms and an outdoor terrace.
Palomar Health held the event to thank the community for supporting the construction of the new Palomar Medical Center. In 2004, district voters overwhelmingly passed Proposition BB, the bond measure that helped pay for the first new hospital in northern San Diego County in more than 30 years.
"Without the continued support of the community, the architectural marvel in front of us would not be a reality," Palomar Health Board of Directors Chairman T.E. (Ted) Kleiter said during the dedication ceremony. "You put your faith in us and we are now delivering on the promise we made to the community."
Palomar Health President and CEO Michael H. Covert praised the "many heroes" that helped build the hospital and looked toward the future.
"While the technology and aesthetics will wow people, it is the compassion of our staff and physicians that will set us apart and help us raise the quality of health care," Covert said. "It is an honor to be celebrating this project with all of you today and humbling to think about what this building holds for tomorrow. Together we've constructed a new foundation to build upon in our quest to meet the needs of those we serve in our District and surrounding communities," he added.
Saturday's event also featured technology demonstrations, free food and drinks, music, free health screenings, exhibits and children's activities. Several area restaurants participated in the "Taste of North County" feature from 6 to 8 p.m.
At 6 p.m., a Mercy Air helicopter landed on the rooftop of the hospital, signaling the start of the dedication program and several moving speeches. Dignitaries included members of the Palomar Health Board of Directors and local government officials. Herb K. Schultz, Region IX Director for the U.S. Department of Health and Human Services, took the stage to congratulate Palomar Health. U.S. Senator Dianne Feinstein did the same through taped remarks. A flag-raising and ribbon cutting also took place during the program.
Former San Diego television news anchors Carol LeBeau and Hal Clement narrated the day from a stage near the hospital, conducting live interviews with district and community leaders that appeared on large screens for celebrants to follow.
The new Palomar Medical Center will open on August 19. The hospital features all-private patient rooms with dedicated family space, beautiful gardens designed to promote healing, surgical suites built to optimize clinical excellence and emergency rooms created to maximize life-saving efficiency.
About Palomar Health
Palomar Health is the largest public health-care district by area in California and the most comprehensive health care delivery system in northern San Diego County. It is governed by a publicly elected board of directors, and its primary service area in Inland North San Diego County has more than 500,000 residents.
A Magnet® recognized health system, Palomar Health has several facilities, including hospitals and skilled nursing facilities in Escondido and Poway as well as Palomar Health expresscare health centers in Escondido, Rancho Penasquitos, San Elijo Hills in San Marcos and Temecula in Riverside County.
Palomar Health provides medical services in virtually all fields of medicine, including primary care, heart care, emergency services, trauma, cancer, orthopedics, women's health, rehabilitation, robotic surgery and bariatric surgery.
See articles written about the new Palomar Medical Center at http://bit.ly/M9QBwc, http://bit.ly/Po3O9q, http://bit.ly/PNkOGp
For additional photos, please contact Leonel Sanchez, Palomar Health Media Relations Manager, at (858) 675-5018.
For more information about Palomar Health, please visit http://www.PalomarHealth.org.