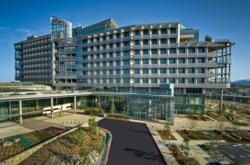 These recognitions are a testament to everyone involved in the creation, planning and design of the new hospital.
San Diego, Calif. (PRWEB) December 27, 2012
The new Palomar Medical Center in Escondido has been named the 2012 national "Best of the Best Health Care Projects," as well as California's "Best Health Care Project" and "Best Overall Project" by Engineering News-Record (ENR), the premier publication for design and construction news.
The awards were presented to Palomar Health, CO Architects and DPR Construction for their exemplary and innovative work on the new hospital. Projects were judged by design and construction professionals. Palomar Medical Center, known as "The Hospital of the Future," is featured in the December edition of ENR California.
In February, the editors of ENR will select one project from the national "Best of the Best Projects" winners as the Editor's choice. Palomar Medical Center, as the winner in the Health Care category, is eligible for this award.
According to ENR editors, the "Best of the Best Projects" winners are "truly outstanding examples for the entire construction industry of teamwork, safety, overcoming challenges, innovation and quality."
Palomar Health's flagship hospital opened on August 19, about four months after construction was completed and was paid in part through a bond passed by North San Diego County voters in 2004. The 11-story, 288-bed Palomar Medical Center is one of the largest buildings in the United States to use an integrated project delivery method and one of two hospitals in the nation with day-lighted operating rooms. At its groundbreaking in 2007, it was the largest project under construction in California. DPR took over construction management in 2008.
Many design and planning decisions were guided by patient-centric, experience-based design, which included documented input from individuals in all hospital departments. Flexibility was built in so the hospital can continually accommodate the changes to equipment, technology and treatment through the lifetime of the hospital. In addition, the hospital features a 1.5-acre rolling green roof, wireless access throughout the facility, expansive gardens and a large custom chandelier in the main lobby that makes a dramatic first impression for those visiting the hospital.
Project leaders said they were honored to receive the prestigious awards on behalf of all project participants and hailed the many people involved for their outstanding teamwork. The project tallied 4 million work hours, 6,000-plus craftspeople, 2,600 safety audits and more than 40,000 inspections. Twenty-five million pounds of structural steel and 5 million feet of electrical cable were used during construction.
"These recognitions are a testament to everyone involved in the creation, planning and design of the new hospital – including our Board and staff," said Palomar Health President and CEO Michael H. Covert. "It represents a unique achievement and the next stage of development in the building of hospitals and the way we care for individuals in such settings."
DPR Construction Regional Manager Jay Leopold said the only thing that rivals the building and the achievement that were being recognized was "the journey."
"It is validating to be recognized for a truly significant accomplishment, not only for its complexity and scale but for the manner in which this project was delivered, collaboratively and as a united front," Leopold said. "This major undertaking was a true example of high performance as a team."
CO Architects Principal and Project Director Tom Chessum, FAIA, said the dedication and focus on creating the best health care delivery, architectural design and construction processes resulted in a project that will revolutionize the face of health care design and delivery.
"Palomar Medical Center represents a huge leap forward in the ongoing pursuit of innovations in health care architecture that contribute to better patient outcomes," Chessum said.
"The design simultaneously embraces the natural world and the world of medical technology in a flexible, sustainable, and evidence-based environment of care," Chessum added. "This visionary 'hospital of the future' was realized through an integrated form of project delivery involving building information modeling and advanced teaming practices."
To read more about the national "Best of the Best Health Care Projects" award, visit ENR.com. To read more about the California awards visit, ENRCalifornia.com.
ABOUT PALOMAR HEALTH:
Palomar Health is the largest public health-care district by area in California and the most comprehensive health care delivery system in northern San Diego County. It is governed by a publicly-elected board of directors, and its primary service area in Inland North San Diego County has more than 500,000 residents.
A Magnet® recognized health care system, Palomar Health has several facilities, including hospitals and skilled nursing facilities in Escondido and Poway as well as Palomar Health expresscare health centers in Escondido, Rancho Penasquitos and San Elijo Hills in San Marcos in North San Diego County and Temecula in Riverside County.
Palomar Health provides medical services in virtually all fields of medicine, including primary care, heart care, emergency services, trauma, cancer, orthopedics, women's health, rehabilitation, robotic surgery and bariatric surgery.
For more information about Palomar Health, please visit http://www.PalomarHealth.org.
ABOUT CO ARCHITECTS:
Los Angeles-based CO Architects is a nationally recognized architecture firm specializing in healthcare, academic, and science and technology architecture, design, planning, and programming. The firm's healthcare industry experience ranges from existing facility evaluations to new, comprehensive medical campuses, including hospitals, outpatient facilities, specialty clinics, medical office buildings, and facility expansion and renovation. CO Architects' work on academic medical campuses includes new schools of medicine and allied health. For more information about CO Architects, please visit http://www.coarchitects.com/ http://www.coarchitects.com/ __title__ COArchitects.com] .
ABOUT DPR CONSTRUCTION:
DPR Construction is a unique technical builder with a passion for results. Ranked in the top 50 general contractors in the country over the last 10 years, DPR Construction is a national commercial contractor and construction manager that has grown by delivering measurably more value for its customers.
As a national technical builder, DPR Construction specializes in highly complex and sustainable projects. Focused on five core markets - healthcare, life sciences, advanced technology, corporate office and higher education- DPR Construction transforms project delivery through its extensive in-house expertise and passion for measurable results.
DPR Construction serves customers nationally through regional offices around the country. As one of the nation's leading general contractors, it matches the strength of top-technical talent and national expertise with the flexibility and responsiveness of a regional builder to help customers meet the ever-changing demands of the marketplace.
For more information about DPR Construction, please visit http://www.dpr.com/