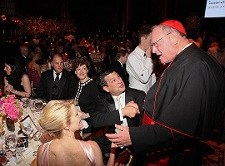 Pamela Chiesi helps those funded and private programs that help the diagnosed with animal hoarding to face their illness, financially help them to care for and properly feed the animals that they are allowed to keep.
New York (PRWEB) October 08, 2012
Pamela Chiesi, an active animal rights activist, now offers her charity to a local animal shelter provider, for the voiceless living creatures of this world. She volunteered to help with the different tasks like feeding animals and keeping the shelter clean and grooming them up. These animals have their own preferences of living in a habitat of their choice, with their fellow beings around.
In her support to animals she stated, "Every animal deserves to live their lives free from suffering and exploitation and on their own will. We as humans should give them their own freedom to live where ever they want on the planet. Those voiceless creatures even have the right to live and choose their own freedom."
Pamela Chiesi is a very passionate animal lover and supports different regional animal rights organizations in their endeavors. She was born in Brooklyn, NY in 1964 and was raised the oldest of three children in an upper-middle class family. To know more log on to http://www.crunchbase.com/user/pamelachiesi