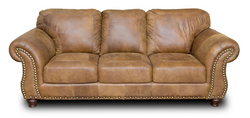 People making a large purchase online can sleep a little better knowing their furniture is on the way and prepared to arrive in pristine condition
Houston, TX (PRWEB) September 5, 2008
Wholesale Furniture Brokers is currently expanding its furniture lines to bring styles that will give customers exciting new choices they can explore for their home decor. Giving customers more variety for every space inside and outside their home is one of the priorities when adding new manufacturers. Wholesale Furniture Brokers is introducing Pampaexport, a premier manufacturer that creates unique designs and home furniture solutions by the finest Brazilian craftsmen.
"Wholesale Furniture Brokers makes it easy for customers to shop their website. Their experienced customer service representatives, and above all, their reputation on the market make them the first choice," says Pampaexport's sales manager, Elis Guimares when asked why Pampaexport chose to sell their furniture at Wholesale Furniture Brokers. Pampaexport has been importing Brazilian furniture from Salvatore-Minuano, La Casa Design, Sier Moveis, and German Interiors to the US for over 20 years from their headquarters in Porto Alegre, Brazil. Pampaexport has two more branches located in Sao Paulo, Brazil.
Customers of Wholesale Furniture Brokers will be able to order patio furniture by La Casa Design, dining room furniture, entertainment centers, and accent pieces by Sier Moveis, and living room furniture including accent furniture by German Interiors. Every premium sofa designed by Salvatore-Minuano uses 100% full grain, full aniline dyed leathers on the fronts, sides, and backs. The hides used are tanned in their own tannery giving them complete control over the selection and quality during the production process. The seating is enhanced with genuine Intes seating systems that are imported from Italy and hand attached to the durable eucalyptus hardwood frames.
During the production process, the furniture imported by Pampaexport uses environmentally friendly practices. Replanting the eucalyptus used to make the hardwood frames ensures the natural wood resources are not diminished. Customers of Wholesale Furniture Brokers will be pleased to know they are helping maintain the environment with every order of Pampaexport furniture.
To preserve the quality of the furniture as it is being delivered to Wholesale Furniture Brokers' customers, Pampaexport furniture is encased in muslin, wrapped in plastic and bubble wrap, and then boxed. Each box is placed on a pallet to ensure the furniture travels to its destination safely and in perfect condition.
"People making a large purchase online can sleep a little better knowing their furniture is on the way and prepared to arrive in pristine condition," says Jeff Penner, affiliate outlet manager for WFB. Ensuring products arrive at customers' homes in perfect condition is one of Wholesale Furniture Brokers priorities when selecting a new manufacturer to add to the website.
Along with Wholesale Furniture Brokers, representatives of Pampaexport attended the July 2008 Las Vegas furniture show. This was Pampaexport's 5th participation in the show. They debuted at Building B with a total of 12,248 sq. ft. of space displaying their leather sofas, sectionals, dining room furniture, accent furniture, and patio furniture. If you wish to view the latest Brazilian furniture designs imported by Pampaexport, you can visit them at the next Las Vegas furniture show in February 2009.
About Wholesale Furniture Brokers:
Wholesale Furniture Brokers launched its first "Click and Mortar" shopping service, GoWFB.com, in 2002 with more than 30 independently owned affiliated furniture stores in the USA and Canada. Online shoppers can easily search for furniture by room, style, and location, and order on a secure server at Wholesale Furniture Brokers. Furniture businesses that are interested in ordering furniture available on GoWFB.com including Salvatore-Minuano can sign up to Wholesale Furniture Brokers' furniture dealer and vendor program.
###