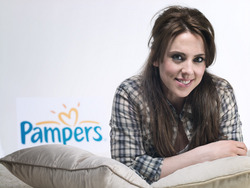 (PRWeb UK) October 28, 2010
Today the Pampers and UNICEF partnership launches the Pampers Big Kiss campaign; a simple online donation mechanic supported by celebrity mum Melanie C in a further push to help eliminate maternal and newborn tetanus.
All people need to do is go to http://www.pampers.co.uk/bigkiss and send a free 'virtual kiss'. For every kiss sent, Pampers will donate the funding for an additional vaccine to UNICEF. Pampers is also encouraging people to tap into the power of social media and share the link to the Pampers Big Kiss via the twitter hashtag #pampersbigkiss.
This year Pampers and UNICEF are celebrating half a decade of supplying life-saving maternal and newborn tetanus (MNT) vaccines to women and children in developing countries around the world. The Pampers Big Kiss campaign has been designed to allow not just parents but everyone – friends, family and parents of the future – to help raise the funding for additional life-saving tetanus vaccines for UNICEF.
Melanie C comments: "I love the idea behind this campaign. Over the last four years mums and dads in the UK have done an amazing job raising funds for these life-saving tetanus vaccines. Now through the Pampers Big Kiss campaign, everyone can be part of the fight to help eliminate maternal and newborn tetanus. It's so simple – with a click of a mouse you can send a virtual kiss that can help to save someone's life."
Since 2006, the "1 pack = 1 life-saving vaccine" Pampers and UNICEF campaign has helped to protect 100 million women and their babies, with the help of mums across the globe. So far the campaign has reached 21 countries across two continents, with 14 of these countries now reaching completion of their maternal and newborn tetanus programmes.
Tetanus is caused by bacteria that live in soil. Women and newborns are often infected as a result of unhygienic birth practices, such as cutting the umbilical cord with unsterile instruments or handling it with dirty hands. Once contracted, there is no real cure and up to 95% of babies die in the first month.
However, maternal and newborn tetanus can be prevented through simple injections given during pregnancy, to protect both a mother and her unborn child during this vulnerable period.
Following administration of the tetanus vaccine to a pregnant mother, the antibodies pass across the placenta to her foetus. At least two doses of the tetanus vaccine are required, protecting the mother for three years and the baby for two months.
This year, with the launch of the new Pampers Big Kiss campaign in aid of UNICEF, people across the UK will be inspired to send their love further and help generate the funding for even more vaccines to protect the 170 million mothers and newborns that are still threatened by maternal and newborn tetanus.
# # #