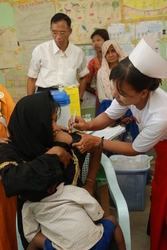 (PRWeb UK) October 1, 2010
Today the Pampers and UNICEF "1 pack = 1 life-saving vaccine" partnership kicks off its 2010 campaign in the UK with news that Myanmar in South East Asia, has successfully eliminated maternal and newborn tetanus with support from the Pampers and UNICEF campaign.
The Pampers and UNICEF partnership, now in its' fifth year, has helped the country to achieve elimination and ensure that the lives of women, their babies and those of future generations living in Myanmar are protected against the deadly disease, by raising money for life-saving tetanus vaccines.
Around the world the campaign has reached 100 million women and their babies in 21 countries across 2 continents. The aim is to help globally eliminate the disease by raising money for the life-saving vaccines needed to protect the lives of the 170 million women and their babies still at risk from the disease.
Maternal and newborn tetanus is known as the "silent killer", and those women still at risk from the disease live in the most rural areas of the poorest countries in the world. Without UNICEF's help, these women have little or no access to quality healthcare and so the disease continues to needlessly claim the life of a newborn every nine minutes.
UNICEF UK Director of Fundraising, Julie Weston, says: "It is fantastic that our partnership with Pampers has helped Myanmar to eliminate maternal and newborn tetanus and this success takes us one step closer to our goal of global elimination. Around the world, however, the lives of millions of mums and their babies are still at risk from the disease. This is wrong and I urge all UK mums to help Pampers and UNICEF put this right by supporting our campaign to raise money for these life-saving vaccines."
Pampers UK & Ireland spokesperson, Catherine McGough, comments: "Both Pampers and UNICEF are committed to working together to reach the amazing goal of eliminating maternal and newborn tetanus and the recent success in Myanmar takes us one step closer to this target. We hope that, this year, we can help protect even more women and children from the deadly disease but more than ever we need the help of mums across the UK to send their love further to help us make this goal a reality."
From today, parents in the UK can help Pampers and UNICEF protect the lives of women and babies still at risk from maternal and newborn tetanus by simply purchasing a Pampers product marked with the "1 pack = 1 life-saving vaccine" logo. For every pack sold between October to December 2010, Pampers will provide UNICEF with the funding for one tetanus vaccine.
For further information on the Pampers and UNICEF partnership and to find out how you can support the campaign this year and send your love further please visit: http://www.pampers.co.uk or http://www.unicef.org.uk/pampers.
###