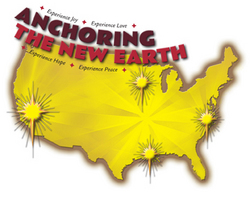 By the end of 2009 from each geographic anchor point, a stream of golden energy will radiate across towns, cities and states until all of America is encompassed in a dome of light, protection and Divine love
Naples, Florida (PRWEB) September 15, 2009
Contemporary spiritual master and visionary Panache Desai will travel to Santa Barbara, CA on September 25, 26 and 27 to share a message of Divine love and hope as he anchors the highest spiritual light for the west coast of the United States. Participants will travel from across the country to take part during the third leg of his 2009 Global Gatherings at Bacara Resort and Spa, 8301 Hollister Avenue, Santa Barbara, CA 93117.
Panache Desai is guided to carry the gift of energetic transformation to the four corners of the United States to facilitate the Ascension of America, a spiritual awakening that elevates and transforms consciousness allowing individuals to relate to one another at the deepest, most profound level of divine oneness rather than superficial differences.
"If we lived in a world where we related to one another as our divinity, knowing that at the deepest level we are all one, humanity would immediately evolve to a transcended space of peace and joy," explains Panache. "As an individual's capacity to carry the light expands, we stop seeing one another in terms of race, religion, sexuality, socioeconomic background or nationality. Instead we care for each other from a place of love, respect and joy."
Panache's 3rd Gathering focuses on the importance of selfless service, a term he uses to explain the cornerstone of this work; doing for others, both physically and energetically, without expectation of anything in return.
Each person called to participate made a promise before they incarnated this lifetime. "You are here to hold the light and to energetically carry over those who are unable to make the shifts necessary at this time," says Panache. "God needs your radiance, your glory and your unique contribution. Each person called has a role to play in this awakening."
People are drawn to this work because we are alive at one of the greatest times in the history of this planet explains Panache on this short video clip.
Earlier this year, four anchor points were revealed to Panache and it is in these cities that the 2009 Global Gatherings have been held. The first two took place in Black Mountain, North Carolina in March and in Chaska, Minnesota in June. This upcoming gathering in Santa Barbara will anchor the energy for the West Coast and occur at the time of the Autumnal Equinox. The 4th gathering in New Orleans, Louisiana, still struggling to recover from Hurricane Katrina, will be one of the most energetically transformative sessions ever and will coincide with December's Winter Solstice.
"By the end of 2009 from each geographic anchor point, a stream of golden energy will radiate across towns, cities and states until all of America is encompassed in a dome of light, protection and Divine love," says Panache.
Global, homeland, economic, environmental and personal circumstances continue to spiral out of control. Today people are being forced to assess what is truly important. Old systems that no longer support the evolution of mankind are crumbling making way for something new to come forth. Humanity is being forced to wake up. A new God-consciousness is emerging, a period of transcended awareness and peace. The Divine needs the unique contribution of those who are called to become vehicles for peace, transformation and love.
"As one flame kindles another, the evolution of our New Earth is ignited," says Panache. "As each person answers the call to this awakening, the collective blaze burns brighter. It is through each individual's light, loving presence and selfless service that the Divine is manifesting in our reality."
Schedule of Events for Anchoring the New Earth.
Panache Desai's 3rd of four Global Gatherings in 2009
Friday, September 24, Saturday September 25 and Sunday, September 26
Friday 6:30 - 8:30 Opening the Energy
Saturday 10:00 am - 6:00 pm I AM THE LIGHT
Sunday 10 am - 6 pm I AM THE WAY
Full Event Pre-Registration Fee: $289. at the door. $371
Saturday Session 1: Kindling the Inner Flame
Time: 10:00 am - Noon
Pre-Registration fee $ 46, At the door $ 57
Saturday Session 2: Shining the Light of Awareness
Time: 1:30 pm - 3:30 pm
Pre-Registration fee $ 46, At the door $ 57
Saturday Session 3: Your Radiance, Your Glory
Time: 4:30 pm - 6:30 pm
Pre-Registration fee $ 46, At the door $ 57
Sunday: Full Day Acceleration -
Time: 10 am - 6 pm
Pre-Registration fee $ 210, at the door $ 269
Bacara Resort and Spa is located at 8301 Hollister Avenue, Santa Barbara, CA 93117.
Early Registration Recommended. Sessions will be held both indoors and outside. Dress comfortably and wear walking shoes. For more information call (239) 649-7373 or visit panachedesai.com.
About Panache Desai
Panache Desai is a living master who can activate and guide individuals into direct connection with the Divine. He has brought the gift of spiritual awakening to thousands across the globe. Born and educated in London, he is guided at this time to focus his public meditations, sessions and workshops here in the United States. He shares a profound call to empower people from all nationalities, religious beliefs and ideologies in the understanding that we are all one. He is a vehicle of profound peace, love and light.
###