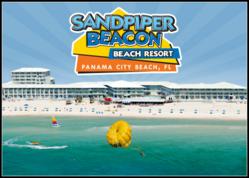 Now more than ever before, vacationers visiting Panama City Beach expect their dollar to go further.
Panama City Beach, FL (PRWEB) May 28, 2011
Panama City Beach Hotels and Resorts recognize today's family is looking for more than just a place to stay when planning their Summer 2011 vacation.
In order to entice vacationers to visit, increasingly more hotels are demonstrating an intention to create a beach vacation 'experience', rather than just providing sleeping accommodations. This is evidenced by hotels such as the Sandpiper Beacon Beach Resort, which has adjusted its entertainment schedule to include several family focused activities. These include beachside games and contests, an authentic Polynesian fire dancing show, face painting, and live bands playing in the 'Tiki Bar' – all of which compliment the existing amenities already offered.
Chris Brown, with Resort-Guest Relations, says the Sandpiper has experienced "an enthusiastic reception" by its many repeat guests to all of the changes taking place at the Resort. "Once checked in, most guests never leave the property" boasts Chris, leading him to believe that "Now more than ever before, vacationers visiting Panama City Beach expect their dollar to go further."
This year alone, Panama City Beach has been awarded the Travelers Choice Beaches Award by TripAdvisor, as well as earning a place in AOL Travel's Top 10 Budget Destinations. In 2010, Panama City Beach was recognized by CNN as being one of the Top Five Value Destinations for Winter 2010, as well as making into USA Today's Top Five Bargain Destinations for Spring 2010.
TripAdvisor recently reported that 86% of travelers are planning 'leisure trips' during Summer 2011; a noticeable increase from the 83% they said had traveled last year. While there is no indication as to what percentage of these travelers will be staying in Panama City Beach Hotels, business owners remain confident that the recent positive exposure will have an impact.
Building off a predicted increase in travelers planning leisure trips, Hotels in Panama City Beach are making greater efforts to appeal to holidaymakers planning a Summer 2011 vacation. For an example of how one Panama City Beach Hotel is applying this, visit the Sandpiper Beacon Beach Resort.
###