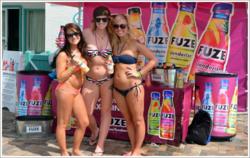 ...To have the opportunity to actively engage such a focused segment of our target audience in a fun and positive manner is extremely valuable.
Panama City Beach, FL (PRWEB) May 02, 2012
Hotels in Panama City Beach, Fl such as the Sandpiper Beacon Beach Resort, are reaching out to corporate America for brand sponsors of Spring Break 2013. Panama City Beach Fl has become a Mecca for thousands of college and high school Spring Break students each year, earning its reputation as the "Spring Break Capital of the World".
Spring Break itself, a rite of passage since the 1930's, has always been a popular annual event in Panama City Beach, driving business to the tourist destination from all over the country, and even the World. Panama City Beach truly secured its place in Spring Break history back in 2000, when MTV first landed on the famous sugar-white sandy beaches with free celebrity concert performances by well-known artists, and has gone from strength to strength ever since.
With the arrival of thousands of college students week after week, comes the opportunity to market brands to them. Some pioneering hotels in Panama City Beach, such as the Sandpiper Beacon Beach Resort recognized this potential early on, and have been successfully creating partnerships with brands for several years, including Coke Zero, Jägermeister, Coors, Budwesier, Monster energy drinks, and most recently, FUZE.
"It's the ultimate a win-win situation," according to Patrick Hazard, General Manager of the Sandpiper Beacon. "Brands get to expose their message to the exact demographic they are targeting, and the Spring Breakers get to enjoy free 'swag bags', prizes and giveaways."
This particular demographic offers significant potential for corporate sponsors. At this age, successful branding campaigns can secure strong positioning in consumers minds that will influence purchasing decisions for years to come. "It is one thing to passively market using traditional media such as print, radio and TV ads; but to have the opportunity to actively engage such a focused segment of our target audience in a fun and positive manner is extremely valuable," said Jessica Beers FUZE Marketing and Public Relations Manager.
Brands are quickly seeing the potential value of this exposure, and an ever-increasing number of companies are reaching out to the limited number of Panama City Beach Hotels in an attempt to secure exclusive partnerships. Each brand attempts to outbid the rest with competitive offers of giveaways, prizes, and promotions during Spring Break.
Spring Break 2012 saw the Sandpiper Beacon, a popular beachfront hotel with a strong reputation for being a must-visit Spring Break resort, partner with FUZE. A subsidiary of the Coca Cola Company; FUZE manufacturers teas and non-carbonated fruit drinks enriched with vitamins. Known in the industry as "new-age" beverages, brands such as these are a perfect fit for the younger, Spring Break crowd who arrive in there thousands each week.
The partnership saw FUZE promote its brand daily with free poolside Zumba classes, games, contests, and plenty of branding places around the resort. There were also plenty of giveaways and prizes handed out featuring the company's logo. "Thanks to our partnership with the Sandpiper Beacon, we conservatively estimate that we were able to successfully expose our brand to students in the double-digit thousands," said Beers.
In an attempt to build upon the success of partnerships like these, hotels in Panama City Beach such as the Sandpiper Beacon are now reaching out to other potential sponsors to help promote Spring Break 2013. The goal is to provide a greater Spring Break experience, as well as allowing well-known brands the opportunity to reach a focused group of their target audience in an engaging and interactive manner.
The Sandpiper Beacon Beach Resort is a beachfront family-friendly Hotel and Resort in Panama City Beach, Florida. Known as the "Fun Place" the Sandpiper is committed to value; offering so many activities, amenities, and so much entertainment, that guests never have to leave during their vacation. Find out more at http://www.sandpiperbeacon.com