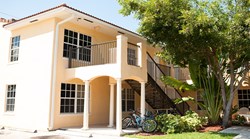 All houses are located along public transportation lines and are close to 12-step meeting locations.
West Palm Beach, FL (PRWEB) June 25, 2013
Best Halfway House is announcing its intentions to offer sober housing resource network connections to the Panama City Beach, Florida area.
This allows people an opportunity to remain free from addiction to drugs and alcohol.
Best Halfway House makes sure there are plenty of sober house selections for men and women.
The sober houses Best Halfway House selects must meet key criteria before even being included in the network. They must be clean and well maintained, plus have structure and accountability.
This ensures residents remain on the right track when it comes to their recovery from drug and alcohol addiction. Some houses have pools and other nice amenities.
All houses are located along public transportation lines and close to 12-step meeting locations.
Halfway houses are sober living environments where people in recovery can live in a drug-free environment with other people on the same path.
It's important to choose a good sober home since it helps set the tone and foundation for a good life filled with recovery and free from addictive, obsessive, compulsive behaviors and activities.
Equally important is what a person does with his or her life in recovery. Best Halfway House can help with job placements in the Panama City Beach area and support residents who decide they are going back to school.
It is even possible to attend extended care, also known as Intensive Outpatient Treatment. Residents continue their drug treatment therapy in IOP after leaving a residential treatment center.
All South Florida sober living homes have house managers who help newer residents out.
To learn more about the Best Halfway House Recovery Network, visit their website at http://besthalfwayhouse.com or call them at (800) 335-9720.