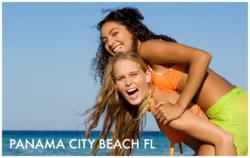 We are very proud that the incredible team of people who work so hard to promote our destination have been recognized.
Panama City Beach, FL (PRWEB) July 29, 2012
Panama City Beach Hotels and Condos recognize that marketing the destination involves a unique set of challenges, due to it's wide diversity of visitors; making the significance of the awards all the more impressive. Despite being the closest coastal beach to much of the Southeast and Midwest, the TDC has also successfully reached out to both Delta and Southwest Airlines to bring the World's Most Beautiful Beaches within reach of even more vacationers.
The first award was presented by Florida Sports, who awarded Vice President of Sports Marketing, Richard Sanders the Sports Leadership Award. Sanders was officially given the accolade by John Webb, president of Florida Sports earlier this month.
Secondly, Susan Estler, Vice President of Marketing, was named to the Advertising and Internet Committee of VISIT FLORIDA, the official marketing group for all tourism in the State of Florida. New challenges facing Susan will include creating the messaging of the destination, particularly Northwest Florida, and areas like Panama City Beach.
Finally, Marketing and Research Coordinator, Dana Brown, was selected for the 2012 Forty for the Future (Travel's Leading Talent) award by the Southeast Tourism Society, a non-profit organization dedicated to the promotion and development of tourism throughout the region.
"I congratulate our marketing team for their recent recognitions," said Dan Rowe, executive director of the TDC. "All three individuals are exceptionally talented and dedicated to our ongoing success in attracting visitors to our wonderful destination on a year-round basis."
Owners of hotels in Panama City Beach, as well as several Panama City Beach Condos, have welcomed this news. "It's a huge honor. We are very proud that the incredible team of people who work so hard to promote our destination have been recognized", said Patrick Hazard, General Manager of the Sandpiper Beacon Beach Resort.
One recent example of this award-winning marketing from the TDC, is the successful World Record attempt at the World's Longest Bikini Parade, which was claimed on March 6th 2012 during the Panama City Beach Spring Break season. Officiated by the Guinness Book of Records, Panama City Beach made it's way into the history books as 450 women, all wearing bikinis, marched along a one-mile stretch of the beach.
The role of the TDC is to develop effective marketing strategies to attract visitors, and encourage travel to Panama City Beach all year round.
About Panama City Beach
Panama City Beach is situated on 27 miles of sugar-white sand beaches bordering clear, emerald-green waters where the Gulf of Mexico and St. Andrew Bay converge. With more than 300 days of sunshine annually and attractions such as St. Andrews State Park and Pier Park, the region has long been favored by travelers seeking an affordable beach vacation with year-round offerings for families, couples, groups and adventure-seekers. These include championship golf courses, spas, sporting events, award-winning dining and diverse recreational activities. Panama City Beach recently opened the new Northwest Florida Beaches International Airport, offering non-stop flights on Delta Airlines and Southwest Airlines.
About the Sandpiper Beacon Beach Resort
The Sandpiper Beacon Beach Resort is a family-friendly Hotel and Resort in Panama City Beach, Florida. Known as the "Fun Place", the Sandpiper is committed to value; offering so many activities, amenities, and so much entertainment, that guests never have to leave during their vacation. For more information, call 800-488-8828 or visit http://www.sandpiperbeacon.com.