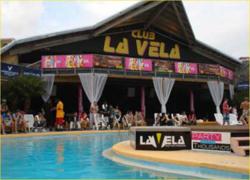 Some of the highlights to Club La Vela would have to be there famous line up of popular concerts with some of the hottest bands.
Panama City Beach, FL (PRWEB) February 26, 2012
Travel website TripShock.com announces their top picks for bars and clubs when visiting Panama City Beach in 2012. The listings below are in no particular ranking or order. For more exciting things to do in Panama City Beach, check out TripShock.com for great activities and things to do.
1) Coyote Ugly Saloon - You really can't go wrong with cowboy hats and daisy dukes. To help you picture the scene, imagine the movie "Coyote Ugly" with girls dancing on bars and the floors packed with people. Coyote Ugly is definitely one of the favorites for all of the PCB locals as well.
2) Pineapple Willy's Pier Bar - Right down the road from Coyote Ugly Saloon is Pineapple Willy's. Check out the bar with live music and dance the night away. There are always several people from all ages sipping on their "Fat Tuesday" slushy alcohol mixers and enjoying the beach scene.
3) Spinnacker Beach Club - Spinnacker's (AKA "Spins") is just minutes away from Pineapple Willy's. During the day, Spinnaker's hosts some of the best beach parties right in front of the bar and restaurant. Then at night, this place turns into one of the hottest dance clubs with multiple dance floors, an amazing bar, and popular bands all season long.
4) Club La Vela - This club is not only the biggest club in Northwest Florida, but one of the largest in the United States. Some of the highlights to Club La Vela would have to be there famous line up of popular concerts with some of the hottest bands. Club La Vela has hosted MTV, Playboy, The Black Eyed Peas, Lil' Wayne, Drake, The Jersey Shore cast and so many more. If you're looking for a bikini or wet T-shirt, this is the place to be.
5) Sharky's Beach Club - This bar is known for their beach parties every Tuesday. They host some of the best beach contests with bands, scandalous dancing, and everything in between. This bar even has some really good food. What could be better combo?
(These next three are some of the most popular college bars)
6) Harpoon Harry's - This is not only your Spring Break and summer favorite, but it's also one of the craziest and outlandish party places of them all. With the current club music and extremely cheap drinks, spring breakers really can't go wrong at "Poon's". Plus it is both indoors and outdoors with a deck specifically designed for the big time partiers.
7) Hammerhead Fred's - Just nearby is Hammerhead Fred's that features cheap draft beer, hot wings. and college ball on the big screens. Don't forget that Hammerhead Fred's offer some of the hottest parties in Panama City Beach.
8) Latitude's - Another club that has a slightly unsure future is Latitudes. The building is still up and the sign is still there so we are hoping for a 2012 return this Spring Break. If you have ever attended one of their late night wet T-shirt contests. you will know exactly what we are talking about.
9) Splash Bar - The Splash Bar was voted the number one Gay bar in Panama City Beach. With live DJ's off the charts, discounted drinks, and an always entertaining show, the Splash Bar is always hot.
10) Tiki Bar at Sandpiper Beach - The Tiki Bar is the best college bar on the west end of PCB. Always packed with beautiful people, awesome music, and a colorful lit up dance floor. The Tiki Bar is definitely a wild and crazy bar you must visit before you leave Panama City Beach.
About TripShock.com
TripShock! ® is the one and only online travel agency in the Northern Gulf Coast that enables travelers to book tours and activities directly. TripShock! offers trusted reviews from real travelers, photos, videos and other planning tools to help create the perfect Gulf Coast vacation. TripShock! attracts more than 500,000 visitors annually and partners with over 100 activity and lodging providers from Florida to Louisiana.
# # #