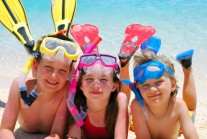 Panama City Beach, FL (PRWEB) April 04, 2013
Panama City Beach has some of the best attractions and things to do in Florida. From the rivers and forest in the North to the beautiful sandy white beaches to the South, there is something for just about everyone. With the warmer weather slowly blowing in, more activity and tour companies will be opening up their doors to welcome travelers. Travel website TripShock.com books thousands of travelers each year in Panama City Beach and notices the trends of travelers each year. Here is list of the top attractions in Panama City Beach.
View all the attractions in Panama City Beach, FL on TripShock.com.
10) Gulf World Marine Park - Although Gulf World has been around for awhile, it's still a must do when families visit Panama City Beach. It also serves as an excellent way to enjoy a cold or rainy day. The park offers different shows featuring animals such as dolphins and parrots.
9) Shipwreck Island - Shipwreck Island Water Park cannot be missed when visiting Panama City Beach. The park features all the best rides and slides while treating their guests to great quality food and service.
8) Sailing Excursions - Panama City Beach offers sailing excursions on the Grand Lagoon that feature dolphin watching and entertainment cruises. Kick back and relax while the salty sea air blows and the island themed music plays in the background.
7) Dolphin Tours - There are plenty of companies to take a dolphin cruise with in Panama City Beach. Although each tour company is a little different, seeing the dolphins swim and play is priceless. Just don't forget to bring a camera!
6) Parasailing - Parasailing tours are the hottest thing to come to Panama City Beach. Although the activity has been around for 20 years, it's still one of the most exciting things to do. Fly over the Panama City Beach skyline to heights exceeding 800ft. See Panama City Beach as a bird would.
5) Paddleboard Tours - Paddleboarding is one of the fastest growing sports on the Gulf Coast. Guided tours are available at several places around the area including the popular Cypress Springs in North Bay County.
4) Fishing Charters - Panama City Beach is home to several charter fishing boats. Book a fishing charter for a small group or go alone on one of the many party fishing boats available.
3) Helicopter Tours - Those that are not ready for parasailing can settle for a ride in a helicopter. Panhandle helicopter tours are exciting and offer several different tours to choose from starting from just $40.
2) Snorkeling Shell Island - The Gulf waters are so pristine that snorkeling is a must do when visiting Panama City Beach. Take one of several tour boats available and gear up for a day of adventure and exploration. Tour boats will typically include snorkel gear so don't worry about buying it.
1) Swimming with Dolphins - Although it is illegal to touch a dolphin in the wild, it is perfectly ok to swim and observe from a safe distance. At Shell Island, there are some friendly pods of dolphins that make their way near groups of swimmers. This is experience is a once-in-a-lifetime opportunity that highlights the beauty of the marine wildlife on the Gulf Coast.
Book all these tours and attractions on TripShock.com today or call 850-424-5125 for reservation assistance.