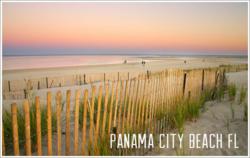 It's not just the financial incentives that make this the perfect time of year to visit.
Panama City Beach, FL (PRWEB) August 13, 2012
With the year-round allure of the areas unique sugar-white sand, which has earned Panama City Beach, FL the title of the "World's Most Beautiful Beaches", along with so many unique events happening all year round, there's always a tempting reason to spend some quality time with the family on the beach. There's the Seafood, Wine and Music Festival, Lobster Festival, and the Pirates of the High Seas Festival, among others.
Right now, people traveling to Panama City Beach can also take advantage of the "value season". Many accommodations are offering guests much lower rates than the peak summer season. As with any vacation destination, rates typically continue to drop as the year draws to a close, along with the volume of entertainment and activities on offer. Panama City Beach's "value season" is the perfect overlap of lower rates and a full entertainment schedule.
Some Hotels and Condos in Panama City Beach are also offering additional incentives including free nights for longer stays. The Sandpiper Beacon Beach Resort is currently offering rates at almost 50% lower than the peak of the busy summer season. On top of that, they are also offering free night specials including Pay 2 stay 3, pay 3 stay 4, and pay 5 stay 7 for certain stays.
"It's not just the financial incentives that make this the perfect time of year to visit," says Patrick Hazard, General Manager of the Sandpiper Beacon. "Right now the climate is beautiful and not as humid as it can get during the peak of summer. The waters of the Gulf of Mexico are still warm and the beaches are much less crowded, meaning much shorter lines and wait times at Panama City Beach attractions and restaurants."
In addition to a wide range of accommodation options, from hotel rooms with refrigerators and microwaves, all the way up to two and three room condos with full kitchens, the Sandpiper Beacon has a huge selection of on-site amenities for guests to enjoy. These include a large beachside Tiki Bar, indoor (seasonally heated) lazy river ride, indoor and outdoor pools, hot tub, waterslides, mini golf, arcade game room, grocery store, beach deli, and much more. Panama City Beach rentals offering guests so much to do included with their stay add to the value of any vacation experience.
"All year round we try to appeal to the value-conscious traveler. It's easy to see how much money you can save by staying at a Resort-Hotel with daily planned family games and activities for all ages," says Hazard. "If you're not constantly having to find ways to entertain your family and spend money on things to do because your Hotel provides it all, you can spend more of your vacation actually relaxing and having fun."
For the first time, the Sandpiper Beacon is also extending the run of its authentic Polynesian Fire Dancing Show, which is free to all registered guests. Typically only offered during the summer, the show's run is being extended throughout the "value season" giving guests one more reason to stay at this large beachfront Resort-Hotel, and making this the best time of the year to visit Panama City Beach, Florida.
About Panama City Beach
Panama City Beach is situated on 27 miles of sugar-white sand beaches bordering clear, emerald-green waters where the Gulf of Mexico and St. Andrew Bay converge. With more than 300 days of sunshine annually and attractions such as St. Andrews State Park and Pier Park, the region has long been favored by travelers seeking an affordable beach vacation with year-round offerings for families, couples, groups and adventure-seekers. These include championship golf courses, spas, sporting events, award-winning dining and diverse recreational activities. Panama City Beach recently opened the new Northwest Florida Beaches International Airport, offering non-stop flights on Delta Airlines and Southwest Airlines.
About the Sandpiper Beacon Beach Resort
The Sandpiper Beacon Beach Resort is a family-friendly Hotel and Resort in Panama City Beach, Florida. Known as the "Fun Place", the Sandpiper is committed to value; offering so many activities, amenities, and so much entertainment, that guests never have to leave during their vacation. For more information, call 800-488-8828 or visit http://www.sandpiperbeacon.com.